Marc Anthony Gets Tattoo for New Girlfriend Where JLO Tat Used to Be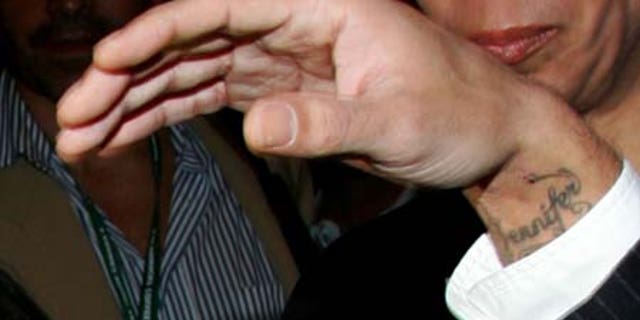 Marc Anthony has memorialized his new love, Venezuelan model Shannon de Lima, with a new tattoo over his 'Jennifer' wrist tat.
Guess Marc is really moving on.
Entertainment site TMZ reported that the Salsa superstar got a tattoo of the Statue of Liberty on his right wrist in tribute for Lima since he says she "freed" him from his past.
Earlier this month Marc Anthony went public with his new squeeze on Twitter.
The singer's new beau was mentioned in Marc Anthony's Twitter feed, revealing that the two are now an item.
"To my @shadelima my statue of peace. Kisses baby," tweeted the Grammy-award-winning crooner. He then retweeted what appears to be a fan who posted a photo of him and De Lima kissing and hugging.
The tweet, fired off by Saray Emme Flores, said "Could this be @MarcAnthony's new love?"
Marc Anthony's son, Chase Muñiz, whom he adopted with when he was with his first wife Debbie Rosado, also congratulated his father on Twitter.
Sources tell TMZ that the "I Need to Know" singer took his older daughter Ariana with him to the tat parlor. The two also got matching tattoos on their left wrists, which they proudly showed off in photos which TMZ revealed on their site.
Marc Anthony's son, Chase Muñiz, couldn't be happier for his father, but says he will always love JLO.
"My dad is happy I'm happy. Love you dad!!!!!!!!!" Muñiz posted. Still, Muñiz said that he would always love JLO.
"I still LOVE my stepmom @JLO," said Muñiz. "That's never going to change she's my mom forever!!!!!!!!!!!"
Jennifer Lopez and Marc Anthony Through The Years
Marc Anthony's new girlfriend, De Lima, the beauty is mother to a four-year-old son Daniel, whom she shares with actor Manuel Coco Sosa. She is 24, the same age as JLO's new squeeze, Casper Smart.
As for what Marc Anthony thinks of all the talk of his tat and his new relationship?
"I hope God multiples on you all the things you wish for me," he posted in Spanish on Twitter last week. "Kisses."
You can reach Alexandra Gratereaux at: Alexandra.Gratetereaux@focnewslatino.com or via Twitter: @GalexLatino
Follow us on twitter.com/foxnewslatino
Like us at facebook.com/foxnewslatino