Man arrested in alleged assault on Lindsay Lohan released by police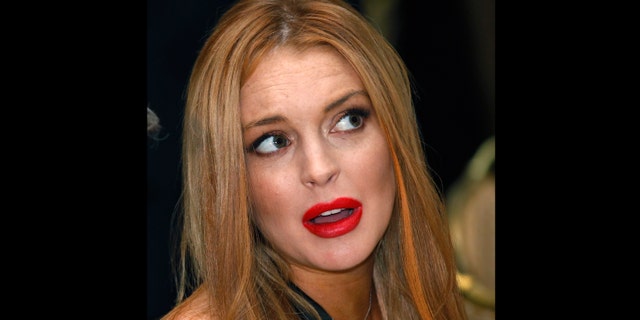 A law enforcement official says a 25-year-old man who got into an argument with actress Lindsay Lohan in her New York City hotel room over cellphone photos has been released from police custody.
The official was not authorized to speak publicly about the encounter Sunday morning and spoke to The Associated Press on condition of anonymity.
Law enforcement officials interviewed both Lohan and Christian LaBella and determined the accusations against him could not be substantiated. They said his arrest would be voided.
Officials said that, instead, Lohan and LaBella sought harassment complaints against each other.
Lohan was allegedly assaulted by LaBella, who she met at a nightclub in Manhattan, after she confronted him about pictures he was taking on his cellphone, sources told the New York Post.
Lohan met the suspect, 25-year-old Labella, at 1 Oak in Chelsea early Sunday morning before returning to the W Hotel.
Police sources told the New York Post that Labella was taking cellphone pictures of Lohan partying. Labella and Lohan got into a tussle in the room, other sources said, before going out into the hallway of the hotel, where he allegedly tried to choke her.
A fire alarm was pulled during the incident, but the hotel told visitors there was no need to evacuate.
After police arrived at the hotel, Lohan was questioned while cops remained outside her room for six hours, according to a Fox News Channel producer who was at the hotel.
"They thought I took pictures but I didn't," Labella was heard telling police in the lobby, where he was caught.
The NYPD told Fox News that the victim of the alleged attack was a white, 26-year-old female, but would not confirm it was Lohan.
LaBella was taken into police custody at about 6 a.m., authorities confirmed.
LaBella has been charged before with two counts of misdemeanor assault and two counts of harassment.
"Lindsay was assaulted early this morning in a New York hotel. While she did sustain some injuries, she was not hospitalized," Steve Honig, Lohan's publicist, said in a statement. "The assailant was arrested and is currently in police custody. Lindsay has spoken with police and is fully cooperating with the investigation."
TMZ reports that Labella is no stranger to rubbing arms with celebrities.
The entertainment news site says Labella's Facebook page has photos of him with stars like Kim Kardashian and her mother, Kris Jenner.
Steve Tomaszewski, a spokesman for Rep. John Shimkus, R-Il., confirmed Sunday afternoon that LaBella has worked for the congressman in his Washington office. Tomaszewski said no one from the Republican's office had been contacted by LaBella.
Tomaszewski said in a statement that "obviously, the Congressman does not condone [LaBella's] actions. As this is a legal matter for Mr. LaBella, the Congressman nor his office will make further comment."
Lohan was previously arrested in New York City on Sept. 20 after she allegedly grazed or barely missed a man walking in front of her car while pulling into the Dream Hotel, according to surveillance footage from the NYPD. She is due in court on Oct. 23.
Click for more from the New York Post.
Fox News' Donald Fair and the Associated Press contributed to this report.