'Mad Men' Barbies Debut As Season Four Kicks Off on AMC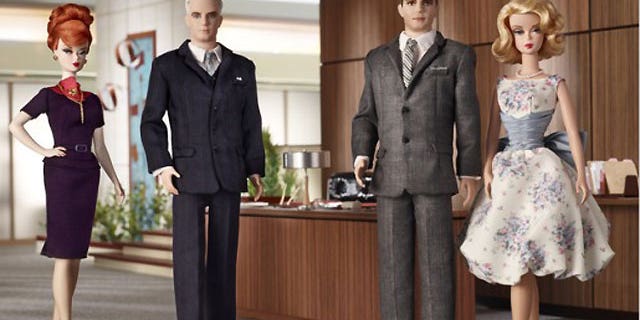 Diehard "Mad Men" fans love the fashions worn by the characters, from Don Draper's gray flannel suit to Joan Holloway's jewel-toned dresses. This season, viewers have the chance to own those outfits -- although they do run a little small.
Mattel has begun selling the "Mad Men" Barbie collection, the New York Post reported Monday, the day after the U.S. premiere of the hit series.
Crafted by designer Robert Best, the dolls sell for $74.95 each and are available at barbiecollector.com. For Best, the show's characters are a natural fit for Barbie.
"The show has such a beautifully art-directed look. The color of the room or the cigarette case, all of it is thoughtful," he said.
Once the folks at Mattel learned that "Mad Men" creator Matthew Weiner was a fan of Barbie, the collection, a year in development, was born.
The collection features suave ad men Don Draper and Roger Sterling, complete with cufflinks. The Draper doll features a "painted 5 o'clock shadow [that] adds to his good looks, as does his dreamy gaze."
Draper's turmoil-ridden wife Betty wears a traditionally-saccharine floral A-line dress with a shiny gray bow, while flame-haired beauty Joan Holloway wears a figure-hugging dress, stockings and pointy black heels.
Even though Mattel cites the Holloway doll's "curvy silhouette," the mini-Joan takes on Barbie's traditionally slim figure. Actress Christina Hendricks, who plays Holloway, is being widely complimented for her non-Hollywood womanly curves.