'Mad Men', '30 Rock' Repeat Emmy Wins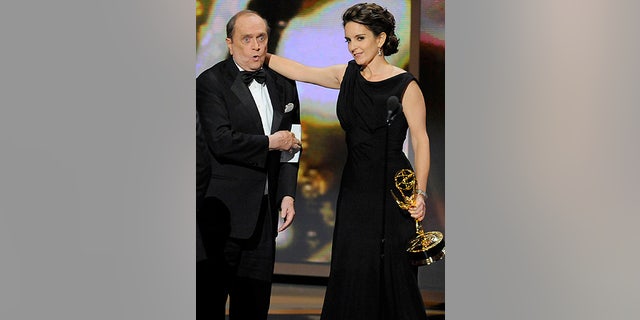 LOS ANGELES – "Mad Men" and "30 Rock" led a pack of Emmy winners who successfully defended their titles at Sunday's show, but the snappy ceremony and a star turn by host Neil Patrick Harris made the evening far from a rerun.
AMC's glossy 1960s Madison Avenue saga "Mad Men," which last year became the first basic cable show to win a top series award, won the best drama trophy for a second time.
"It is an amazing time to work in TV," said "Mad Men" creator Matthew Weiner. "And, I know that everything is changing, but I'm not afraid of it because I feel like all these different media is just more choice and more entertainment. It's better for the viewers in the end and I'm glad to be a part of it."
NBC's "30 Rock," a satirical take on life inside a TV variety show, was honored for the third time as best comedy series, while star Alec Baldwin won his second award as best comedy actor.
"We want to thank our friends at NBC for keeping us on the air ... even though we are so much more expensive than a talk show," said "30 Rock" creator and star Tina Fey, referring to Jay Leno's new daily prime-time comedy show, which NBC likes to note is cheaper to produce than a scripted series.
Baldwin, accepting his acting trophy for "30 Rock" from "Brothers & Sisters" star Rob Lowe, joked, "I'll be honest with you. I'd trade this to look like him."
Glenn Close's performance as a ruthless trial attorney on "Damages" and Bryan Cranston's turn as a meth-making, cancer-stricken teacher on "Breaking Bad" were honored with the top drama series acting Emmys, the second consecutive trophies for both.
"Oh my goodness," exclaimed Cranston. "I'm a poor kid from the valley. I don't know what I'm doing up here. I feel like Cinderfella."
Close called it a "huge privilege" to be part of entertainment community, then tweaked her show's writers.
Her role is "maybe the character of my lifetime, depending on what they do this season," Close said.
Michael Emerson, who plays the cruelly devious Ben on "Lost," and Cherry Jones, the stalwart U.S. president on "24," were honored as best supporting actors in drama series.
"Wowza," Jones said. Emerson accepted his award for what he called "the role of my lifetime."
Toni Collette of Showtime's "United States of Tara" was honored as best lead actress in a comedy series for her role as a mother with multiple personalities.
"Wow, this is insanely confronting," said a beaming Collette. She thanked series creator Diablo Cody, the Oscar-winning screenwriter of "Juno."
Collette's victory deprived Fey of "30 Rock" of winning a second consecutive award in the category. But Fey took the stage a few moments later to acknowledge a guest actor award she received for her Sarah Palin impersonation on "Saturday Night Live."
Kristin Chenoweth of "Pushing Daisies" and Jon Cryer of "Two and a Half Men" won supporting acting Emmys for their comedies and proved that acceptance speeches can be entertaining.
"I'm not employed now so I'd like to be on `Mad Men.' I also like `The Office' and `24,"' said Chenoweth, alternating between tears and smiles as she accepted for her canceled ABC series. "Thank you so much to the academy for recognizing a show that's no longer on the air."
Backstage, the Tony Award-winning Chenoweth noted that she is appearing on an upcoming episode of Fox's show "Glee," has shot two movies and is doing a series of concerts.
Cryer, whose series is the most-watched comedy on TV, brought a wry tone to his speech.
"I used to think that awards were just shallow tokens of momentary popularity, but now I realize they are the only true measure of a person's worth as a human being," Cryer said.
"The Daily Show with Jon Stewart" won the trophy for best variety, music or comedy series, its seventh in a row.
"Grey Gardens," the story of a reclusive mother and daughter who were relatives of Jacqueline Kennedy Onassis, and the Dickens adaptation "Little Dorrit" won for best movie and miniseries, respectively.
Harris, a nominee as well as host, lost to Cryer for his role on "How I Met Your Mother" but won on-stage accolades for his emcee work, including a heartfelt compliment from Jon Stewart.
Harris, who moved the show along with good-natured humor, started the evening on a lively note, performing "Don't Touch That Remote," a custom-made tune from Broadway composers Scott Wittman and Marc Shaiman of "Hairspray" fame. Harris implored viewers to stay glued to the show and called attention to some of the stars in the house.
"I see legends galore, Lange, Barrymore," Harris sang to Jessica Lange and Drew Barrymore, later adding, "But like next season on `Idol' I'm not seeing Paula Abdul." Meanwhile, the camera panned to an empty seat at the Nokia Theatre.
Harris' winning turn as host also was lauded by Jeff Probst, honored as best reality show host for CBS' "Survivor." Probst was one of the five reality hosts who emceed the Emmys last year and received scathing reviews.
"Neil Patrick Harris, this is how you host the Emmys. Nice job," Probst said, pointing his Emmy toward him.
"The Amazing Race" won its seventh consecutive Emmy in the outstanding reality-competition category, once again turning top-rated "American Idol" into an also-ran.
An exception to the upbeat mood came in clips from animated series "Family Guy," which showed the dog character Brian beaten bloody, followed by a reality show snippet with barely concealed swearing.
In a bid to give viewers reasons to stick with the show, CBS put advisories on-screen of upcoming moments, including Justin Timberlake's appearance as a presenter.
The TV academy, meanwhile, hoped to avoid an unwanted rerun at the 61st Annual Primetime Emmy Awards: paltry viewership. The 2008 ceremony was the least-watched ever with an audience of 12.3 million.
Acclaimed but low-rated series like "Mad Men" are seen as one reason viewers bypassed the awards, so major categories were expanded to increase the odds for more popular fare. There were as many as seven nominees per category, compared with the traditional five.
Harris and Emmy executive producer Don Mischer promised to keep the scheduled three-hour ceremony snappy, but they had less room to maneuver than planned. A TV academy proposal to pre-tape some acceptances and show them in a truncated version — gaining time for something more entertaining than speeches — was quashed by industry opposition.
Harris also was a supporting actor nominee for "How I Met Your Mother."
HBO went into the ceremony as the awards leader after last weekend's Creative Arts Primetime Emmys ceremony for technical and other achievements. The channel earned 16 trophies, followed by NBC with 11 and Fox and ABC with eight awards each. CBS, PBS and Cartoon Network had six each.
After Sunday, HBO emerged with a leading 21, followed by NBC with 16, ABC with 11 and FOX with 10. CBS and PBS had nine each.