Lochte dedicates 'DWTS' performance to mother: 'Thank you for being there, mom'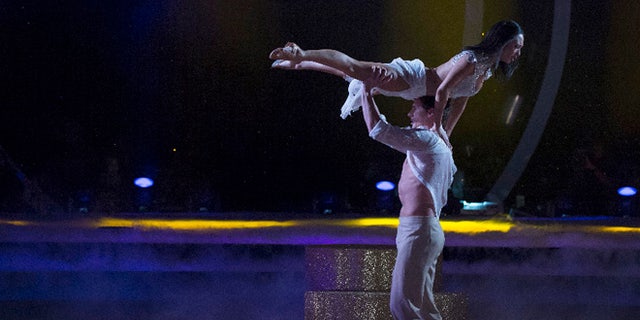 Ryan Lochte has had one constant supporter throughout all the ups and downs of his career: his mother.
And on "Dancing with the Stars" on Monday, the Olympic gold medalist dedicated his "Most Memorable Year" dance to his mom Ileana Lochte.
"Having my mom, my family right there in the stands, watching all my dreams come true, that is definitely something I am definitely going to remember," the swimmer told pro dance partner Cheryl Burke in a pre-taped segment.
An emotional Lochte added: "I want to dedicate this routine to my mom because there's not enough things I can do to show my appreciation to my mom. This is just a little, little, small token to say 'thank you mom. Thanks for being there'."
After performing his contemporary routine to Leon Russell's "A Song for You," the swimmer ran to his mother to give her a hug.
The performance came a day after he popped the question to girlfriend of 10 months Kayla Rae Reid.
"I couldn't really focus, I couldn't concentrate," Lochte told reporters after the show about preparing for the proposal. "I'm just happy everything worked out."
The swimmer said they took a helicopter ride around West Hollywood, Hollywood and Santa Monica before they were dropped off on the top of a mountain in Malibu. There he had planned a picnic with roses and champagne.
"And so we got out and that's when I got down on one knee. But I was messing up! I had practiced it so many times in my bathroom, I had my suit, my jacket on, and I was pulling the ring out, and everything was perfect," he recalled, according to Us Weekly.
"Then when it actually happened I couldn't get the ring out of my pocket and I was stumbling over all of my words! And I was just so clammy and nervous — but then I finally got the courage to ask, 'Will you marry me?' And she said yes! And I was like, 'Yeah! My life is complete!'"
Lochte will return to the ballroom next Monday as no contestants were eliminated this week. This means that fellow Olympian Laurie Hernandez – who got the first perfect score last week for her Michael Jackson-inspired routine – will also dance once again.
For her "Most Memorable Year" dance on Monday, Hernandez danced a paso doble with partner Val Chmerkovskiy in honor of making it into the Olympics this summer.
In their video package, the 16-year-old was in tears as she felt the weight of getting the perfect score the week before.