Little Big Town talks Grammy nod, unity in the country music community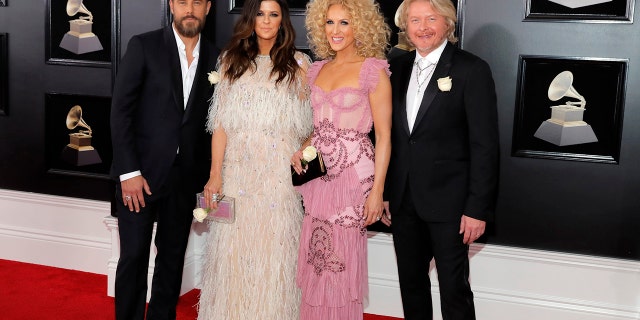 NEWYou can now listen to Fox News articles!
NEW YORK – Little Big Town walked the red carpet at the 60th Annual Grammy Awards, and they said though there are plenty of country music artists at the show, they don't see each other as competition.
"That's what is great about the Nashville community I want to say... We don't view it as a competition," Karen Fairchild told Fox News.
She said country artists "inspire each other."
The band said they appreciate all types of music, and right now they can't stop listening to Harry Styles and John Mayer.
Her bandmate Jimi Westbrook added, "We're fans of music. It's all about celebrating people and their talent and their art."
The band is nominated for best country album and Taylor Swift is nominated for writing their tune "Better Man."
Fairchild said they have been in touch with the pop superstar in recent days.
"We texted back and forth yesterday, and she sent us the most insanely gorgeous flowers with just a note that said 'Can you believe we took this song all the way to the Grammys?'.... We're just anxious to get together when we can all be in the same city."
The band said they are looking forward to toasting with Swift in the near future over their recent success.
Phillip Sweet said the Grammys are different from other awards shows.
"It's very special. It's a unique show."
Westbrook added, "U2 doesn't usually come to our shows. The audience that is sitting and staring back at you when you're performing at the Grammys is a little overwhelming."