Lie to Me Finale: End of the Line for Lightman and Reynolds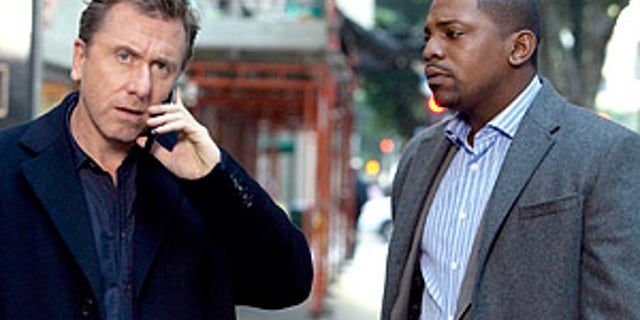 The second-season finale of Lie to Me doesn't play as your typical cliffhanger, but it does bring about some big changes for the show. Chief among them: The departure of Mekhi Phifer's FBI agent Ben Reynolds from the series.

Executive producers and Season 3 showrunners Alex Cary and David Graziano made the decision to broaden their stories and character development.

Lie to Me taps new showrunner

"It hobbled us a bit," Cary tells TVGuide.com of the FBI's watchdog attachment to the Lightman Group. "It put Lightman [Tim Roth] into the sort of one-note position of having to roll his eyes. It became unsurprising, because we knew he was going to go and do whatever he wanted to do anyway."

"Lightman is like that kid in the back of class who used to sit with his feet up on the back of the desk and snarl at the teacher. He subverts authority and the FBI represents that," Graziano adds. "We'd come up with these great stories, but because they didn't adhere to FBI procedure, we couldn't tell the stories effectively."

In Monday's finale (8/7c on Fox), the Lightman Group investigates the death of a journalist who happens to be one of Cal's friends. Tensions between Lightman and Reynolds again rise when Reynolds wears a wire during one of his meetings with Lightman.

Exclusive: Tricia Helfer to crush on Lie to Me's Lightman

"He actually does it with a good motive: to prove to his bosses that Lightman is not as much of an ass---- as they might think he is," Cary says. "It really puts him in a very difficult position, and I think part of Lightman doesn't want to put essentially good people in that sort of position."

During the episode, look for Reynolds to end up on the wrong side of a gunshot. But the producers say they kept the character alive, just in case.

Season 3 will shift Lightman & Co. into more of a private-eye role, Cary says. "They're sort of thorns in the side to regular law enforcement," he says. "We are leaning into his general conflict with power and authority. We make it clear in the very first episode that he has severed his ties with the FBI because he's nobody's lap dog."

"But he still needs a badge sometimes," Graziano adds, noting that the finale also introduces a new character, Detective Wallowski (Monique Curnen) who "shares the same disdain that Lightman has for authority."

Lie to Me Books Breaking Bad star for guest spot

Cary also hints that Wallowski could be a possible love interest for Lightman. "She crosses into the gray areas now and again, and that suits Lightman," he says. "So, it gives him somebody who has a badge, and somebody with whom he can operate on the street, but she also appeals to Lightman."

And what does that mean for Lightman and Dr. Gillian Foster (Kelli Williams)? "He enjoys pulling her pigtails and aggravating her, but it's all born out of his deep love for her and a professional respect," Graziano says. "He needs a certain amount of handling, and she enjoys doing that, but sometimes it causes friction between them. But the core relationship is one of respect and love."
View original Lie to Me Finale: End of the Line for Lightman and Reynolds at TVGuide.com
Related Articles on TVGuide.com
Other Links From TVGuide.com