Lady Antebellum Takes Home Five Grammys; Justin Bieber Gets Beat for Best Newcomer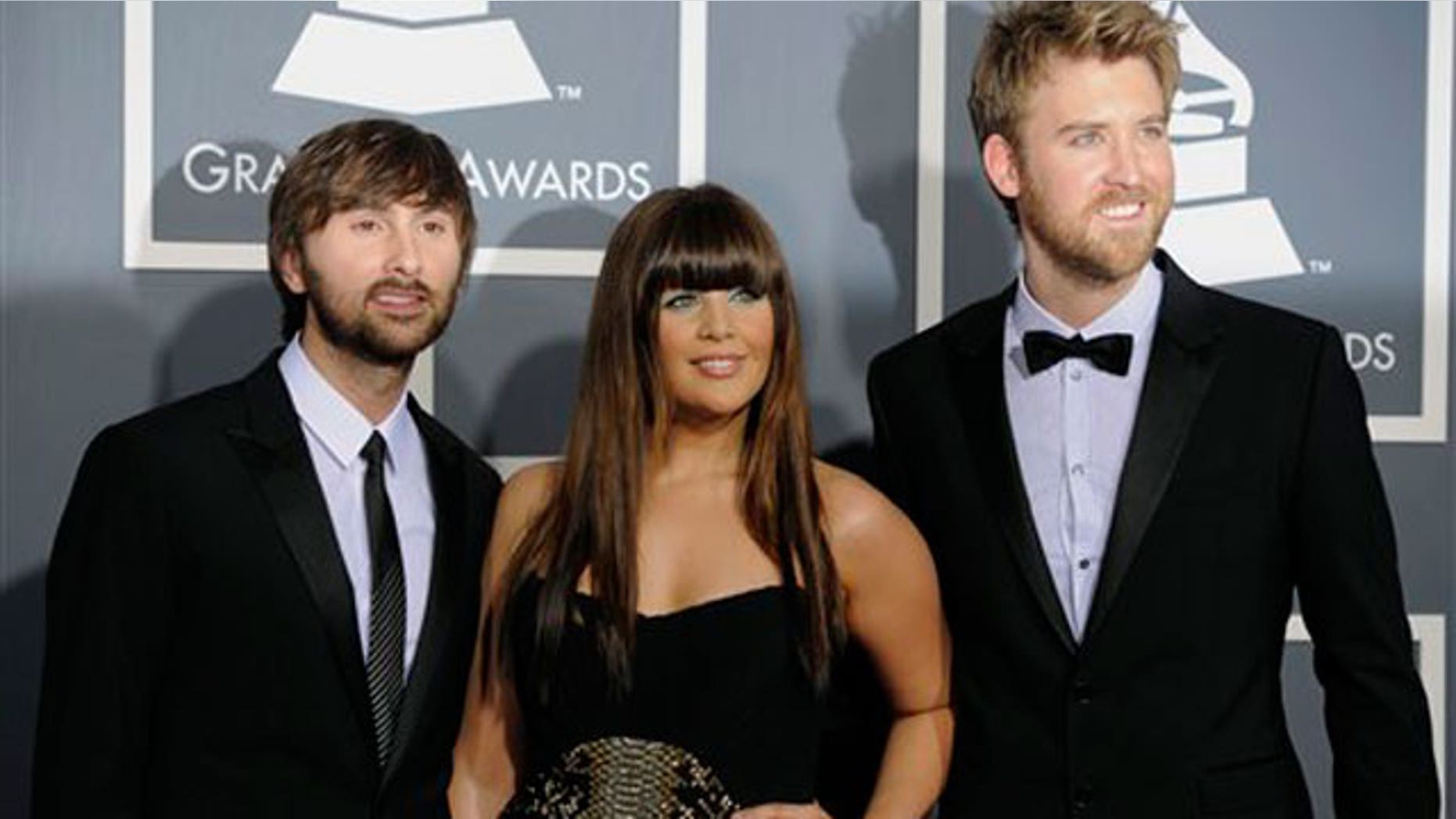 Country trio Lady Antebellum took home top awards at Sunday night's Grammys, with their crossover hit "Need You Now" winning both Record and Song of the Year.
But the trio lost out to Arcade Fire's "The Suburbs" for Album of the Year.
It was the indie rockers' only win on the night after being nominated three times.
Lady Gaga made waves at Sunday's night's Grammys, winning three trophies before the show was even halfway through, including Best Pop Vocal Album for "The Fame Monster."
But while she emerged as one of the evening's early leaders, the singer -- normally the most flamboyant performer on any bill --  found herself out-Gaga'd by Cee Lo Green, Gwyneth Paltrow and Jim Henson Co.'s puppets, who gave a hilarious performance of "Forget You" that would have done Elton John proud.
Decked out in feathers of seemingly every hue, Green -- who was nominated for Record and Song of the Year for the dirty version of the song, "(Expletive) You," crooned alongside a sassy gaggle of puppets and Paltrow, who had already performed "Forget You" on the Fox TV show "Glee," and might want to consider joining hubby Chris Martin of Coldplay as a regular recording artist.
The performance was the show stopper in a night of outstanding performances that included Gaga, a tribute to Aretha Franklin, a retro performance from Bruno Mars, a raspy Bob Dylan, and Justin Bieber getting upstaged by 12-year-old Jaden Smith.
The evening's other top winners included Jay-Z, John Legend, and Lady Gaga, who each had three trophies; and Train, whose "Hey, Soul Sister (Live)," one of the year's top songs, captured Best Pop Performance by a Duo or Group with Vocals.
"Thanks, Justin Bieber, for not being a duo or group," joked frontman Pat Monahan.
Speaking of Justin Bieber, in the night's biggest upset, the pop phenom was bested in the Best Newcomer category by a surprised Esperanza Spalding.
Eminem entered the evening as the top nominee with 10. But he had lost six of those opportunities midway through the night, although he did pick up a trophy for Best Rap Album for "Recovery" and Best Rap Solo Performance.
The Grammys give out 109 awards -- but most of those are doled out before the live telecast in a ceremony before the CBS show. Instead of focusing on the awards, the Grammy show emphasized performances with extravagant showcases to the that featured the year's most celebrated artists, along with emerging acts and true legends.
Gospel legend Mavis Staples was a tearful winner as she picked up the first Grammy of her career, for Best Americana Album, for "You Are Not Alone."
"That was the shock of my life. My goodness. It's been a long time, a long time coming," she said, breaking into tears.
Young also won his first musical Grammy (he had won for best boxed box set in 2009). "I'm not Mavis, but I'm close," he joked, as he held his trophy for best rock song for "Angry World."
In the pre-televised ceremony, Toumani Diabate and the late Ali Farka Toure of Mali won best traditional world music album for "Ali And Toumani." Their 2005 collaboration "In the Heart of the Moon"
Banjo maestro Bela Fleck won again for best contemporary world music album for "Throw Down Your Heart, Africa Sessions Part 2," his 15th Grammy. The first volume of his Africa Sessions series, which explores the banjo's African roots, won two Grammys.
In the Latin awards, Grupo Fantasma, a funky Latin orchestra from Austin, Texas, won best Latin rock, alternative or urban album for "El Existential," taking home its first Grammy on its second trip to the awards show. It won over ChocQuibTown, the Afro-Colombian hip-hop trio nominated for best Latin rock, alternative or urban album, which performed "De Donde Vengo Yo" (Where I Come From), winner for Best Alternative Song at the Latin Grammys in November.
"It's a great thing," said Jose Galeano, a singer and timbale player. "It's time people start listening to this type of music ... It's not reggaeton, it's not rap. It's a little bit of everything."
The Spanish Harlem Orchestra won best tropical Latin album for "Viva La Tradicion," its second win.
For Best Latin Jazz Album, Cuban pianist Chucho Valdes and The Afro-Cuban Messengers won for "Chucho's Steps." Valdes has now won five Grammys, his last in 2009 for "Juntos Para Siempre," which he made with his father, Bebo Valdes.
"VIVA LA MUSICA!" Chucho Valdes wrote on Twitter. "Happy for this new Grammy!"
Alejandro Sanz of Spain won best Latin pop album for "Paraiso Express," his third Grammy win.
Other Latin winners included Little Joe & La Familia for best Tejano album; Intocable for best Norteno album; El Guero Y Su Banda Centenario for Best Banda Album.
Buju Banton of Jamaica won Best Reggae Album for "Before The Dawn." Banton faces life in prison with a trial scheduled to begin Monday, five months after a previous jury hung on federal drug trafficking charges.
British duo La Roux won for Best Electronic Album.
French DJ David Guetta and Afrojack won for Best Remixed Recording, Nonclassical, Guetta's second win in that category.
Ray LaMontagne won Best Contemporary Folk Album for "God Willin' & the Creek Don't Rise," an unexpected hit that the singer-songerwriter produced himself after facing resistence from his label, RCA.
In other traditional American categories, the black string band Carolina Chocolate Drops won for Best Traditional Folk Album, for "Genuine Negro Jig"; Buddy Guy won for Best Contemporary Blues album for "Living Proof"; Pinetop Perkins and Willie 'Big Eyes' Smith won for best traditional blues album for "Joined At The Hip"; Patty Loveless won best bluegrass album for "Mountain Soul II"; Chubby Carrier and The Bayou Swamp Band won for best zydeco or Cajun album for "Zydeco Junkie"; Tia Carrere, who starred in the film "Wayne's World," won for best Hawaiian album.
Dee Dee Bridgewater won for Best Jazz Vocal Album for her tribute to Billie Holiday. In the Best Jazz Instrumental Album category, the late James Moody bested the Vijay Iyer Trio.
Japanese guitarist Tak Matsumoto won for Best Pop Instrumental Album.
The Beatles' complete remastered studio recordings won for Best Historical Album. The Beatles last won for the remixed "Love" album, in the compilation soundtrack and surround-sound categories. Paul McCartney, meanwhile, won Best Solo Rock Vocal Performance for "Helter Skelter" on "Good Evening New York City."
The Associated Press contributed to this report.