Kurt Russell pays tribute to dad's Portland Mavericks with 'The Battered Bastards of Baseball'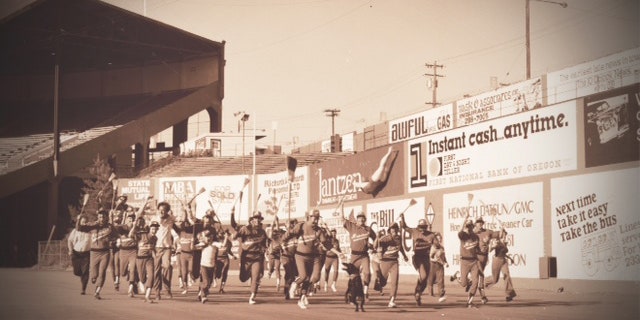 PARK CITY, Utah – With spring training right around the corner, there's nothing like a heartwarming story about a man's pursuit of the American Dream through America's pastime: baseball. "The Battered Bastards of Baseball" debuted at Sundance this week, and follows Bing Russell's quest to create the only independent baseball team in our country at the time: the Portland Mavericks.
A Hollywood maverick himself -- best known as Deputy Clem on "Bonanza" -- Bing has some great people telling his story, too: his grandsons Chapman and MacLaine Way, and his son, actor Kurt Russell.
"What these guys did was they discovered a human being, an independent man who wanted to do something that would give some people second chances, or first chances, or 10 chances. (Bing) was someone who wouldn't quit on you," Kurt Russell, who played on the mavericks and later became the team vice president, told FOX411. "This was over 40 years ago so I had to dig into my memory bank deeply. To see this film, to hear my dad's voice and see him alive again was kind of shattering. To see him not just portrayed, but really revealed."
Bing operated his beloved Mavericks without a Major League affiliation, held open tryouts swarmed by those rejected by organized baseball, and allowed team photos that featured players drinking beers with jerseys on backwards, as opposed to the straight-laced snaps we see today.
In 1974, the year after Bing started the Mavericks, the team shattered minor league attendance record, and he was named Class A Baseball Executive of the Year, unprecedented for the owner of an independent team. The following year, former Yankees great Jim Bouton came out of retirement to pitch as a Maverick. But in 1977 the much-loved team was forced out of Portland after the Pacific Coast League reclaimed the territory and gave it back to the MLB-affiliated Beavers.
"The biggest thing I learned about my grandfather was the odds and obstacles he was up against to make this team a success. To overcome all of that, to inspire a community and inspire players and revolutionize the concept of independent baseball," Chapman said. "And while in other teams the players go up and down, and there is no real rapport with fans, what Bing did was recognize that you need to keep players all year round so fans can really get to know them."
The documentary draws not only on personal experience and accounts, but brings the spirit of the Mavericks to life with images from Bing's scrapbooks, the dusty basements of Portland's local news stations, and 16mm footage of the team in action.
And Bing's son wasn't the only Maverick associate to go on to achieve great professional success. Todd Field grew up to direct Oscar-nominated films such as "In the Bedroom" and "Little Children," Hank Robinson forged an acting career and starred as an angry umpire in "The Naked Gun," and Rob Nelson invented Big League Chew gum.
But ultimately, "The Battered Bastards of Baseball" points to something deeper than just taking a swing at the sports establishment.
"The story really is of one man going up against the powers, which is incredibly palpable," Maclain noted. "Today, you have small businesses trying to compete against large corporations, and what they have to do to try and survive."
And according to Kurt, if his father were here today he would be "completely knocked out" by the documentary.
"He would have been incredibly surprised and proud of one thing," Russell said. "That he has a couple of grandsons who know how to create a film, to create special moments for people."
Follow @holliesmckay on Twitter.