Kris Kristofferson opens up about memory loss and his 'blessed' life as a cowboy in Hollywood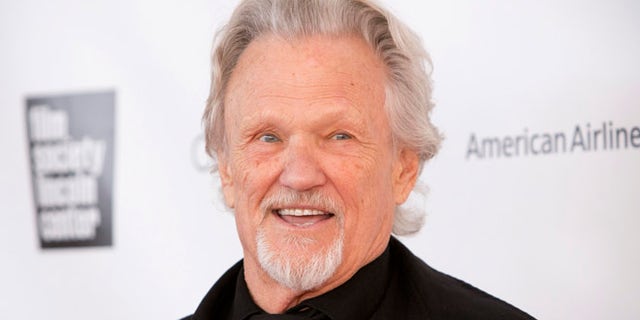 LOS ANGELES – Very few people have had a career anywhere close to that of Kris Kristofferson. From country music singer, songwriter and musician to film actor and sex symbol of the 1970's, the star, now 77, is still pinching himself that its real.
"It all feels very surreal to me. I'm really gratified by people to my work and to me. Everyone is so nice to me," Kristofferson told FOX411 in an exclusive interview following a Cinefamily-hosted screening of his forthcoming indie film "The Motel Life," which kicked off a month-long tribute to his life and career called "Kris Kristofferson: A Cowboy in Hollywood."
And while the passage of time has brought many highs, Kristofferson said he has been struggling with one thing recently.
"I wish my memory weren't so bad. They tell me its from all the football and boxing and the concussions that I got. A couple of years ago my memory just started going," he lamented. "But I can remember my songs so I can perform, but other than that..."
Kristofferson said music is still where the heart is (after all, he is the genius behind Janis Joplin's "Me and Bobby McGee" and "Sunday Morning Coming Down") although he managed success in both screen and song without having to knock on too many doors.
"The music is who I am. When I was a little boy I was writing songs, but I started doing them both (acting and performing) and was getting hired in same week," he said. "Both were no preparation, no training. I had never been on stage and never even really played."
Kristofferson said he always just enjoyed the process and never tortured himself to be the best, and ended up accomplishing everything he set out to do in the entertainment arena anyway.
"I can't think of anything that I could do that I haven't done. Maybe if I were to write and direct a film, but I don't think I will ever do that. I just feel so lucky don't be around and have worked with so many great people," he said. "And I don't think I have ever been really hard on myself because I have always done what I wanted too. Ever since I got out of the Army (he reached the rank of Captain in the 1960s) and decided I was going to be creative person."
In "The Motel Life," a drama based on a book by Willy Vlautin that explores the bond between two orphaned brothers living on the fringes of Reno, Kristofferson plays a touching supporting role alongside stars Emilie Hirsch, Dakota Fanning and Stephen Dorff. There are even a couple of light-hearted drug-taking references about Kristofferson's longtime pal and "The Highwaymen" cohort Willie Nelson in the film, which Kristofferson said he "just loved."
But despite all his success, the "A Star is Born" sensation has his priorities straight.
"I am very lucky. And on top of that I have a wife (Lisa Meyers) that has been married to me for 33 years and I have got eight children and they all like me," he added. "I am very blessed and am at a very good point in my life."
"The Motel Life" opens in select theaters November 8.