Kim Zolciak's Lesbian Relationship: Truth or Public Relations Stunt?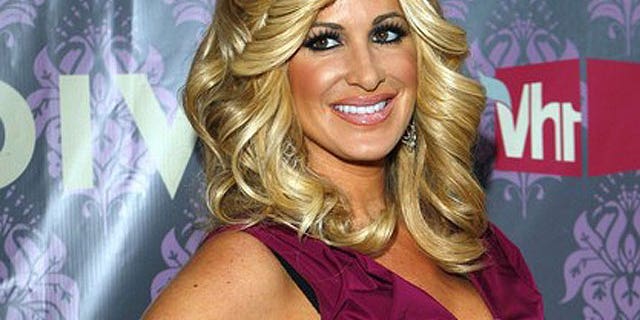 NEWYou can now listen to Fox News articles!
She may be known for her scandalous relationship with a married man, but word has emerged that "Real Housewives of Atlanta" star Kim Zolciak is now batting for the same team.
Over the weekend, the 31-year-old divorced mother of two stepped out with DJ Tracy Young, her apparent lesbian lover of three months and the lady behind the remix of her dance single "Tardy for the Party" at "The Blacks' Annual Gala" in Miami.
"Kim was there with Tracy and her daughters and they were all so happy together," a longtime pal of the DJ told Tarts. "Tracy looked and sounded so amazing. Kim hung around her all night."
SLIDESHOW: The Lovely and Talented Kim Zolciak
Oddly enough, frequent Tweeter Zolciak steered clear of directly addressing the big news – although she slammed "Real Housewives of New York" star Simon van Kempen (Alex McCord's husband) for recently hinting about the relationship to reporters.
"WOW...who the hell is Simon van Kempen? Talking abt me in US weekly. Give me a break ...Get ur facts straights, Never met that man in my life," an enraged Zolciak Tweeted.
We couldn't help but ask for Mrs. McCord's response to the snarly tweet.
"Simon & Kim have never met, and probably won't ever unless it's at the behest of Bravo," McCord told us. "He never said he'd met her -- he was asked about her and responded that he'd heard she was coming out. Given that one week she says she's with her Big Poppa & the next week she isn't, who knows what to believe. Anyway, I'm not sure why Kim has a problem with Simon. Her use of the word 'straights' is interesting, it's either grammatically incorrect, a typo or a comment on her sexuality - which is it?"
Meow.
SLIDESHOW: The Hottest "Real Housewives"
And Zolciak certainly sounded pretty peeved when we called her on Monday to hear her side of the story, she claimed to be in "a meeting" and although she promised to call us back it didn't happen.
However, less than one week ago, Zolciak confirmed on an Atlanta radio station that she was still dating "Big Poppa," the never-before-seen boyfriend on the show who happens to still be married.
So is it possible that Zolciak's "coming out" is a PR stunt? After all, she has never been one to shy away from attention – last year the vivacious blonde even posed topless (for free) in support of the NOH8 Campaign which seeks to overturn California's Proposition 8 which bans same-sex marriage.
"I have no regrets about doing the show. All press is good, negative or positive it doesn't matter," Zolciak told Tarts last year.
But that may not be true in the case of her career's future. Rumors surfaced a couple of months ago that she may get booted from the show due to her diva demands. And according to E! News, Zolciak has yet to sign a new contract with the hit Bravo show and some executives even feel that her sudden switch may be an attempt to create a scandalous storyline that will enhance her contract negotiations.
However multiple sources have told us that, at least for the time being, she is definitely a lady's lady.
"Kim is very much in love with Tracy. It has been really hard for her coming to terms with falling for a woman and they've had their ups and downs. But they're working on more music together and doing everything they can to make it work," said our insider, adding that while the romance is real Zolciak will most likely milk the attention for all that it's worth.
Another source close to the reality starlet said that Zolciak has been pretty armored by Young for the past few months and would constantly be talking about how she had to "call her girl," although wasn't convinced that she was, in fact, a "100 percent lesbian."
And when we questioned Zolciak's Bravo show co-star/enemy NeNe Leakes on the hot topic, she simply said that she "knew nothing about it."
But with the third season looming, we're sure Leakes and the rest of the outspoken ladies will have plenty to dish …