Kim Zolciak slams marriage troubles rumors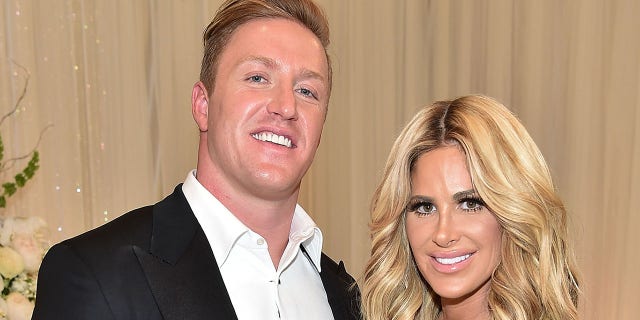 NEWYou can now listen to Fox News articles!
Kim Zolciak's tired of the rumors surrounding her marriage to Kroy Biermann. The pair tied the knot in 2011 and share four kids together plus Kim's two daughters from a previous relationship, but lately there has been speculation about the status of their marriage after Kroy was cut from the Buffalo Bills.
On Wednesday, Kim took to Snapchat to clear things up, both praising her man and calling out the haters.
WATCH: Kim Zolciak's Husband Kroy Biermann Cut From the Buffalo Bills Two Weeks After Signing With Team
"I swear I'm like married to the king. He cleaned the whole house this morning and he cleaned the waterfall out front," she gushed in several clips. "I swear he's like the most incredible human that's ever walked this planet."
Later she turned the camera on the football star, who was eating dinner at home with their big family.
"We're having dinner together," the mother of six explained. "These f--king idiots that write s--t in the tabloids all for clicks on your website. You say that Kroy and I are at war because he's home with me so much. News flash, a--holes, he's played for the Falcons for 8 years so he's always been f--king home.
The "Don't Be Tardy" star continued her rant against the false allegations, saying, "On a more serious note, I don't appreciate people talking s--t especially s--t that's not true because I have the most incredible husband in the whole world."
She then teased Kroy, asking, "Hey, can I trap you with baby no. 7?"
"Please," he replied, laughing.
WATCH: Kim Zolciak Shows Off New Diamond Ring From Husband Kroy Biermann for Their Fifth Wedding Anniversary
Kroy was cut from the Bills just two weeks after signing with the team. He is currently trying out for other NFL teams.