Kim Kardashian's First Date With Reggie Bush … In a Car Wash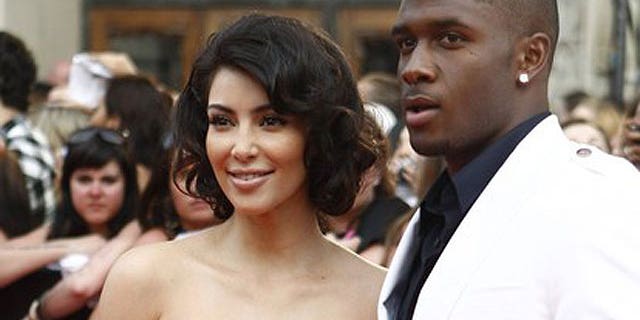 NEWYou can now listen to Fox News articles!
LOS ANGELES – Just because Kim Kardashian and Super Bowl champion Reggie Bush are earning the big bucks doesn't mean that the two of them shared an indulgent first date when they first hooked up in 2007.
"We went to Chipotle and the car wash," Kardashian told Pop Tarts at the "Leather & Laces" Super Bowl party in Miami over the weekend. "I picked him up from the car wash and then we ate at Chipotle. Very sexy."
And while the reality television starlet was immediately attracted to the New Orleans Saint, it seems he took a while to make a move.
"My first impression of Reggie was, 'this guy is so quiet. Why is he not taking my number? No!'" Kim said. "His friend Matt Leinart (Arizona Cardinals quarterback) tried to set us up but it took a while."
And with all those possible proposal rumors swirling around, Kardashian has already mentally prepared herself to high-tail it out of Hollywood.
"Of course," she said without a moment's hesitation when we asked if she was willing to relocate to New Orleans. "I am there all the time anyway, if we were engaged or married then of course."
Their relationship hit a roadblock in July among allegations of cheating on both parties (although they publicly claimed it was due to their conflicting work schedules), but ever since their romantic reunion in September, Kardashian and Bush have made a prominent point of putting their love life first.
"We've been spending more time together, it takes a lot to be in a long distance relationship especially when the both of us have so much going on," Kardashian said. "It is an adjustment to say okay, we have to make this priority and we've done that and it is better than ever."
On that note, what does Bush find so sexy about his leading lady?
"He just finds the little things we do sexy. When we're just hanging out, lying in bed or watching TV," she dished. "We love playing board games – that's just sexy when you're trying not to be sexy."
But even if all else fails for Kimmy K and her NFL star a second time around, at least the business-savvy starlet isn't relying on her man to bring home the bread.
"I just launched my first fragrance, my sisters and I are designing a line for Bebe, we're writing a book, we have a candle line, there is so much I want to do," Kardashian added. "I love the fitness and diet world; I am hoping to get into that a little more. I think the next thing I want to do is skin care because I always have to mix and match so many products and I want to make the perfect line that embodies everything."