Kim Kardashian gives update on sister Khloe after Tristan Thompson cheating scandal
Kim Kardashian appeared on "The Ellen DeGeneres Show" on Monday where she finally broke the family's long silence about NBA player Tristan Thompson being caught cheating on her sister, Khloe, just days before giving birth to their child.
"I don't even know how to describe it besides, it's just so f---ed up," Kardashian said of her sister's current situation.
For those unfamiliar, Khloe Kardashian welcomed a baby girl with Thompson earlier this month. They named the baby True Thompson. Days before the birth, photos and videos of Tristan, 27, surfaced in the media that showed him cheating on the mom-to-be. The first allegedly took place weeks prior to its release, showing him getting too cozy with girls at a club. The second showed him entering and exiting his hotel with another woman.
Kim hasn't said much about her sister's situation, until she appeared on the daytime show Monday to give an update on how she feels about Thompson now.
"I feel like Khloe always dives into relationships and puts her whole heart into everything. I mean, she moved [to Cleveland]. And I've seen her be in a really tough situation before, in her last relationship," Kardashian told Ellen. "So I think the family gets so emotionally invested in whoever each other is with, like, we treat them as family and we give them our whole soul. We treat them like they're a family member. We really were rooting for Khloe, and we still are. She's so strong and she's doing the best that she can. It's a really sad situation all over."
According to Us Weekly, Kim unfollowed Thompson from social media just hours before the interview aired, hinting at ongoing animosity amongst the family. However, the "Keeping Up With The Kardashians" star wouldn't get into detail about the family drama.
"I kind of made this rule with my brother. If there's a baby involved, I'm not going to talk, I'm going to keep it cute and keep it classy and not talk too bad," she said. "I'm going to try and not say anything so negative, because one day True is going to see this, and it's just so messed up. I can just be supportive for Khloe."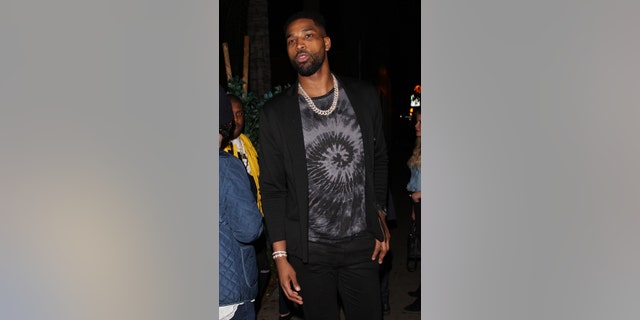 Still, her interview wasn't without revelations about Khloe. At the moment, Kim says she's still with Thompson, but that may change at any moment.
"She wanted to have some alone time with the baby and figure out what her next steps are. I think it must be so hard to have your heart broken and  fall in love in like, a day or two. All at the same time."
Kardashian revealed that Khloe doesn't always let her family in on her personal struggles, but when she does, like in the case with her baby's father, they're there to help.
"When she's gone through really tough things in the past, she's always kept that from us and kind of dealt with it until it became public. Stuff with Lamar [Odom], I guess things were happening for a year and we just didn't know about it," she revealed. "I think she's just like, I need a minute to myself. She's going to get through it. We are such a close family and she has such a good support system and all we can do is be there for her and the baby."
You can watch Ellen ask about Khloe below.