Kim Kardashian dedicates People's Choice Awards win to California firefighters, first responders amid multiple tragedies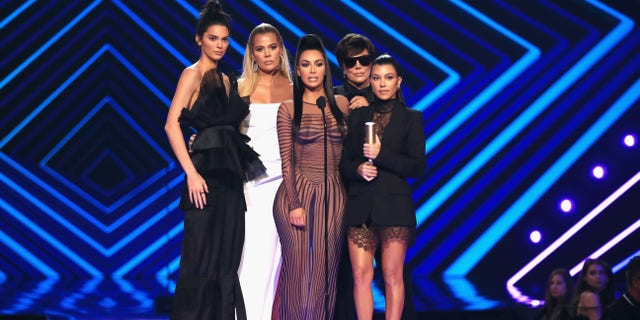 Kim Kardashian and her family dedicated their E! People's Choice Awards win on Sunday to the California firefighters, first responders and law enforcement who've responded to the deadly wildfires and country bar shooting that killed 12 people last Thursday.
Kardashian was joined by her mom and a few of her sisters — Kris Jenner, Kourtney Kardashian, Khloe Kardashian and Kendall Jenner — to accept the award for the top Reality Show of 2018. Kim Kardashian began her speech by paying tribute to the victims of the mass shooting and wildfires.
"It's been a really rough week in our home in Calabasas, Hidden Hills, and [for] our neighbors in Thousand Oaks and Malibu," Kardashian said. "Our hearts are broken from the horrific shootings and those who have lost their lives and homes, as well as the hundreds of thousands of us that have been evacuated from the devastating fires that are currently burning."
KIM KARDASHIAN, ALYSSA MILANO AN MORE CELEBS FORCED TO EVACUATE DUE TO WOOLSEY FIRE
Kardashian said it has been amazing to witness the "resilient spirit" and "heroism of those risking their lives on the front lines." She urged fans to donate to organizations to make a change.
"Our country is stronger when we come together and we cannot face devastation alone. We must continue to reach out and help each other in these trying times," she added.
She concluded the speech by thanking "all of the firefighters, the law enforcement and the first responders" who have responded to the events in the last few days.
"We really, truly appreciate what you have done for all of us," she said. "So please let's continue to pray for everyone's safety. Thank you."
The Kardashians were among celebrities and thousands of residents who were forced to flee their homes as the Woolsey fire rages in southern California. The Camp Fire continues to destroy dozens of houses and buildings in northern California.
The wildfires have killed at least 31 people across the state since it began Thursday.
On the same days the blazes began, a gunman shot and killed 12 people, including a sheriff's sergeant, at the Borderline Bar & Grill in Thousand Oaks. Ian David Long opened fire inside the bar packed with patrons celebrating "country college night" before he turned the gun on himself.