Kelly Ripa grilled by Jimmy Kimmel over Michael Strahan's exit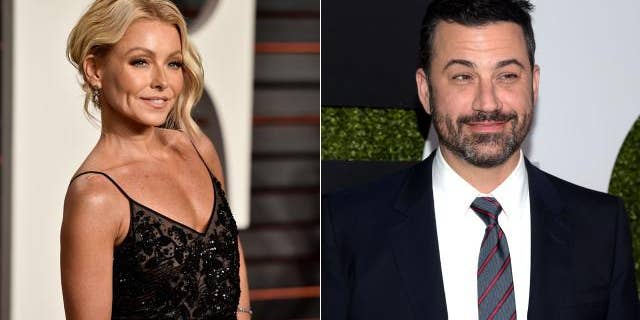 Jimmy Kimmel didn't hold back asking the tough questions when he joined Kelly Ripa as her first guest co-host since Michael Strahan's exit from "Live!" on Friday.
Ripa pointed out on Monday's episode that Kimmel was also her first guest co-host when Regis Philbin left the ABC show in 2011. "I'm like the ex-boyfriend you go back to for sex after you break up with your husband," Kimmel quipped.
EXCLUSIVE: Kelly Ripa and Michael Strahan Found 'Peace' Before His Controversial Live! Exit
From there, the late-night host started grilling Ripa and executive producer, Michael Gelman, as to the drama surrounding Strahan leaving "Live!" after he took a full-time position at "Good Morning America." He admitted that Howard Stern sent him with about 75 questions to ask after he appeared as a guest on his SiriusXM show earlier that day.
"Gelman, will you ever talk to Michael Strahan again?" Kimmel inquired. "I'm sure I will," Gelman replied. "You bet."
WATCH: Michael Strahan Bids 'Bittersweet' Farewell to Live! and Co-Host Kelly Ripa -- 'It's a Moment I Didn't Anticipate'
"Will he be back on this show as a guest?" Kimmel followed up. "At some point, it's possible," Gelman answered.
The 48-year-old comedian then turned his questions to Ripa, regarding her final episode with Strahan. "Everything on Friday's show was hugging and kissing. Was that genuine hugging and kissing?" he asked.
EXCLUSIVE: Brooke Burke-Charvet Would Love to Co-Host Live! With Kelly Ripa
"Yes, we don't fake hug and kiss," she assured Kimmel. "It wasn't air kissing."

Ripa also confirmed that all the images of Strahan backstage will be taken down but they just haven't gotten around to it yet.
The 45-year-old TV personality will have numerous guest co-hosts on the show until the daytime talk show finds a permanent replacement, and Kimmel brought along a mug that the stand-ins could write their name on so that they're included in the "Live! With Kelly" show title.
In addition, Kimmel brought along a wheel for Ripa to spin so that she could choose from seven possible co-hosts to replace Strahan. Kylie Jenner was a suggestion, because Kimmel said "Live! With Kelly and Kylie" had a nice ring to it. Ripa joked that her 14-year-old daughter, Lola, might actually watch the show if Jenner was a co-host.
Kimmel further suggested that the Duchess of Cambridge's sister, Pippa Middleton, take the job, as the show could be called "Live! With Ripa and Pippa." He also suggested Jon Bon Jovi, Derek Jeter, JoJo Fletcher from "The Bachelorette," Beyonce's "Becky With the Good Hair," and a party-size summer sausage as possible permanent co-hosts.
Ripa spun the wheel and it landed on the summer sausage. However, Kimmel joked that it had already taken a job at "GMA."
WATCH: Kelly Ripa on Michael Strahan's Live! Exit -- 'I Need Assurances That We're All Going to Be Fine'