Katy Perry under fire in Australia for telling dog to 'chase some koalas' in promo video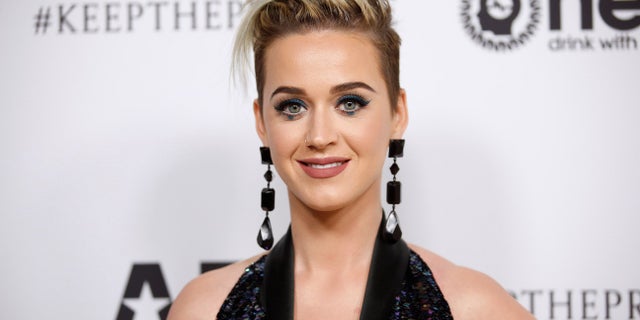 Katy Perry came under fire for telling her dog to chase koalas in a promotional video for her Australian tour.

Perry is visiting the land down under to advertise her tour, which will take place next year. She filmed a series of advertisements for Myer, an Australian department store chain, which is giving away tickets to her show.
In a promotional video for the store, Perry appears with her pet and tells viewers how they can snag 8,000 free tickets to her concert in Australia. At the end of the video, Perry tells her dog: "Let's go and chase some koalas, Nugget!"
The line sparked serious backlash and has since been edited -- but not before animal rights activists reacted and slammed Perry for the statement.

LENA DUNHAM SLAMMED BY ANIMAL SHELTER OVER CLAIM HER ADOPTED DOG WAS 'ABUSED'
Perry's comment apparently hit a soft spot within the country. Each year, approximately 110 koalas are attacked and killed by dogs, according to Queensland's Department of Environment and Heritage Protection.
Claire Madden, an Australian wildlife veterinarian, criticized Perry's comment, in statements to the Courier-Mail newspaper.
"This is just absolute ignorance from Perry and Myer," Madden told the news agency. "It's inappropriate on so many levels.
"Perry is a role model to so many young people, and this just destroys all the good work we do to try to encourage people not to let their dogs come into contact with koalas," Madden said.
The Australian Koala Foundation believes there are less than 100,000 koalas left in the environment, but some claim that number could be even lower at 43,000.
"Katy Perry I challenge you to come and spend a day with me (a wildlife vet) and learn first hand why your comment should not be streamed across the nation," Madden said.
BEN AFFLECK REPORTEDLY DATING 'SNL' PRODUCER LINDSAY SHOOKUS
A spokesperson for Myer told the BBC: "We are aware of comments in relation to Katy Perry's 'Witness: The Tour' advertisement and a particular reference made to koalas.
"We are currently removing the material which references koalas," the spokesperson said.
The koala line has since been changed to: "OK Nugget, it's time to get you a puppy passport."