Katie Holmes dishes on kissing her 'Dawson's Creek' co-stars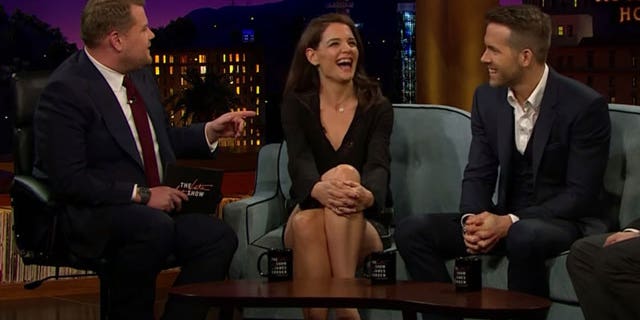 Katie Holmes, Ryan Reynolds and Judd Apatow sat down with James Corden on "The Late Late Show" on Wednesday, and the group interview quickly transitioned into questions about kissing scenes, and Holmes' multitude of on-screen lip locks on her beloved WB teen drama "Dawson's Creek," in particular.
Corden was determined to get to the bottom of a very important question: Who was the best kisser on "Dawson's Creek?" Dawson (James Van Der Beek) or Pacey (Joshua Jackson).
RELATED: Katie Holmes: I Don't Think I've Ever Moved Past 'Dawson's Creek'
The 37-year-old actress played coy when asked, and was hilariously uncomfortable about trying to figure out how to answer.
Instead of flat out refusing to pick, Holmes tried to turn the tables of Corden, asking, "Who do you think?"
"I think Der Beek, because I would get straight up in his grill," Corden said without hesitation.
WATCH: Adele Joins James Corden For Most Incredible 'Carpool Karaoke' Ever
"I went to high school with Josh, and I can tell you right now, he's a terrific kisser," Reynolds interjected. It turns out the two Canadian thespians attended Kitsilano Secondary School in Vancouver.
"Well, I mean if he says so…" Holmes said, laughing.
"So it's affirmative!" Corden exclaimed. "Pacey's better than Dawson! I can't believe it!"
Adding to Holmes' awkwardness may have been the fact that she and Jackson were a real-life couple early in the show's run, so choosing Van Der Beek would have been pretty harsh.
NEWS: Joshua Jackson Pitches His Ideas for a 'Dawson's Creek' Reunion!
Holmes also opened up about her first on-screen kiss, and how kissing in a TV show can often be more uncomfortable than a person's first kiss in their personal lives.
"It's so awkward because with a first kiss in [real] life, if it doesn't go well you can kinda be like, 'Oh I gotta get home,' or 'thanks.' You never have to deal with that person again," Holmes explained. "But on screen, you're gonna have to have lunch and you're probably have to work together tomorrow, so it's a little bit [awkward]."
"The Late Late Show With James Corden" airs weeknights on CBS.