Kate Middleton's royal future with Prince William predicted in her own high school play
NEWYou can now listen to Fox News articles!
Meghan Markle isn't the only actress in the family. Kate Middleton tested out her acting chops when she was just 13 years old, where her royal future was coincidentally predicted.
Before she was a member of the royal family, she was just another girl who wanted to marry a handsome prince. In a rediscovered video clip, a young Kate Middleton stars in a school play as a maiden who is told by a fortune teller that her character will marry a rich and handsome man named William.
The play's production took place at St. Andrew's Preparatory School in Buckhold, England where the princess donned a white dress with flowers in her hair on the school's stage.
In the video, a young Middleton shares a dialogue exchange with another classmate playing the fortune teller. The character tells Middleton that "Soon [she] will marry a handsome man, a rich gentleman."
"It is all I ever hoped for. Will he fall in love with me?" Middle asks.
"Indeed he will," the fortune teller says.
"And marry me?" she asks.
"And marry you," he states.
The fortune teller goes on to say that not only will Middleton's character marry the rich gentleman, but he will also take her away and bring her to London.
Excited about her new fortune, Middleton utters, "Oh, how my heart flutters," cueing laughter from the audience.
In the following scene, the Duchess appears with her prince who then proposes marriage to her. After asking her to say 'yes,' Middleton replies, "Yes, yes, dear William!"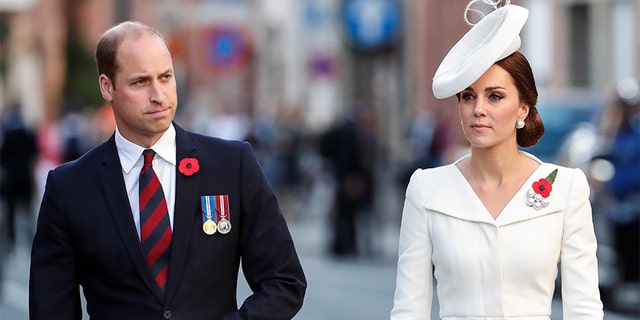 Similar to her school play, Middleton did say yes, but this time, to her real prince. Middleton got engaged to Prince William in the fall of 2010 and the couple was later married in a grand royal wedding ceremony at Westminster Abbey in the spring of 2011. Since Middleton has become an official member of the royal family, the Duchess has had two children, Prince George and Princess Charlotte, and is expecting her third child in the upcoming spring.
Slated to follow suit is William's younger brother, Harry. In addition to the birth of Kate's third child, this spring will also mark the royal nuptials for Harry and his girlfriend, Meghan Markle. Like Middleton, Markle will join the royal family after walking down the isle at her May 19 ceremony at St. George's chapel.