Kate Hudson's New 'Booty Belt,' Heidi Klum's Latest Halloween Costume, and Much More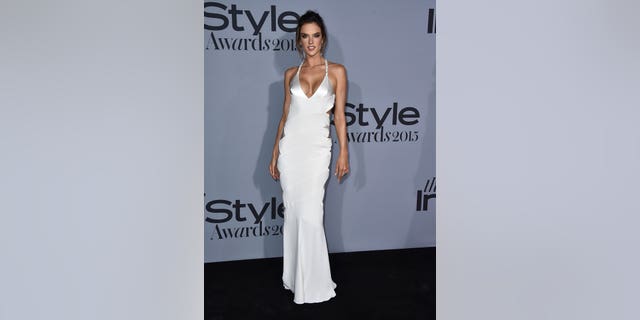 Here's what all the fuss is about:
• On Monday, actress Kate Hudson took to Instagram to demonstrate her new "booty belt," which is a device that tones the glutes via a series of resistance bands (above). But much like Jennifer Aniston at the 2015 Golden Globes, something tells us those bands won't be able to resist Hudson's "irresistible" tush:
• Speaking of irresistible tushes, let's talk about celebrity trainer Kristin McGee. She's worked with Bethenny Frankel and LeAnn Rimes (to name a few), so she knows a thing or two about sculpting a butt that would have Jennifer Aniston drooling. Watch the video below for McGee's tips, then call up Aniston and invite her to your next Golden Globes party:
• Even after acknowledging that he "crossed the line" during past ceremonies, the Hollywood Foreign Press Association has hired Ricky Gervais to host the Golden Globes for a fourth time. In light of this news, the HPFA is not allowed to act surprised if Gervais squanders all their trust within the first two minutes of his monologue.
• Victoria's Secret model Alessandra Ambrosio arrived for the Monday night's InStyle Awards wearing a plunging white gown with diamond-shaped cut-outs down her legs (below). We were just about to call it one of Amrosio's sexiest looks, but then we remembered she models thongs for a living.
• NBC has announced that Matthew McConaughey ("Interstellar," "Dallas Buyers Club") will be hosting the November 21 episode of "SNL" alongside musical guest Adele ("Someone Like You," "Set Fire to the Rain"). That said, we can only imagine the hilarity that will ensue once these two powerhouses of comedy come together in the same studio.
• According to an article in People magazine, Heidi Klum — whose past Halloween costumes have included creepy ape lady and creepy butterfly lady — will be utilizing prothetic boobs, a prosthetic butt and shimmery gold fabric for this year's costume. However, Klum only revealed that she's going as "sort of" a man's fantasy, so we can probably expect her to top off the costume with a creepy baby head.
• Paramount is reportedly working on a live-action "Dora the Explorer" film based on the animated (and highly merchandised) Nickelodeon cartoon character. The plot is still unclear, but it's almost certain that Dora will continue to explore the deep recesses within the wallets and purses of hapless parents everywhere.
• Empire magazine has revealed an exclusive photo of Jared Leto dressed as the Joker from his "Suicide Squad" film (below), and in it, he appears to have just escaped from Arkham Asylum. It also appears as if his character will head to Minneapolis and ransack Prince's home sometime during the course of the film, making off with the musician's signature canes and snakeskin jackets.
• And finally, the head of New York City's police union has called for a boycott of Quentin Tarantino's films after the director participated in a protest against police brutality over the weekend. Their beef hasn't yet escalated any further, although it's a safe bet that it's going to end with Tarantino writing a movie about a villanous police chief that somehow finds himself being tortured by Michael Madsen.