Justin Bieber's engagement to Hailey Baldwin 'felt right,' source says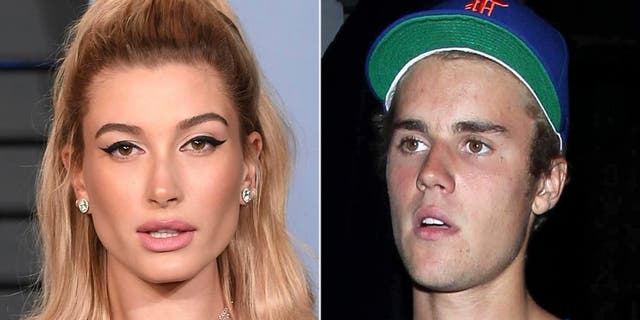 It may have come as a surprise to fans when Justin Bieber proposed to supermodel Hailey Baldwin over the weekend after just one month of dating, but the "Sorry" singer's decision was a long time coming.
"Justin felt the timing was right for Hailey and him to take the next step in their relationship," a source close to the 24-year-old popstar told Fox News. "They've known each other for almost a decade and their connection has always been genuine."
In fact, Bieber had no reservations about proposing to his new fiancée.
PHOTOS: SEE HAILEY BALDWIN'S ENGAGEMENT RING
"For Justin, engagement is a way for him to validate the maturity that he's seen in himself over the last year-and-a-half, almost two years," says the source, noting that Bieber, attributes much of his growth to his church involvement and the faith he shares with Baldwin, 21.
"He really feels he's taken the necessary steps as a man through his faith, his family and with someone he truly cares for to put himself on the right track to live a fulfilling life," the source said of Bieber, who, along with Baldwin, is very involved with Hillsong Church.
"Justin thought a lot about this decision and just felt the worst Hailey could say was no, and if she did at least she would know how he feels about her. Obviously, she said yes, and Justin couldn't be happier."
"He really thinks she's one-of-a-kind," shared the insider.
A second source echoed the same sentiments, adding that Bieber felt he owed it to Baldwin to give her something she longed for because she welcomed him back into her life after their friendship ended following the duo's split in 2016.
"Justin loves Hailey and wanted to do right by her since she allowed herself to come back to him and for him to be completely forthcoming to her about what he wanted with her and for their lives together," said the source.
"He's extremely excited for this new chapter of his life with Hailey."
On Monday, both Bieber and Baldwin took to social media to confirm the news.
"Was gonna wait a while to say anything but word travels fast, listen plain and simple Hailey I am soooo in love with everything about you!" Bieber captioned two black-and-white Instagram photos of himself with Baldwin, who was sitting on her fiancé's lap, showing off a simple diamond band on her engagement finger.
Continued Bieber, who proposed on July 7: "So committed to spending my life getting to know every single part of you loving you patiently and kindLY. I promise to lead our family with honor and integrity letting Jesus through his Holy Spirit guide us in everything we do and every decision we make."
"My heart is COMPLETELY and FULLY YOURS and I will ALWAYS put you first!" he added. "You are the love of my life Hailey Baldwin and I wouldn't want to spend it with anybody else. You make me so much better and we compliment eachother so well!!"
Moments later, Baldwin wrote on Twitter: "Not sure what I did in life to deserve such happiness but I am so utterly grateful to God for giving me such an incredible person to share my life with! No words could ever express my gratitude."
According to TMZ, the star popped the question at a resort in the Bahamas.
The couple were reportedly salsa dancing at a restaurant when witnesses say Bieber's security asked everyone to put their phones away so as not to record the special moment. He reportedly proposed right then and there earning himself a big "yes" from Baldwin.
News of the couple's engagement came as a surprise to some who were confused by the timing seeing as Bieber recently split from Selena Gomez and Baldwin appeared at the Met Gala with then boyfriend Shawn Mendes just two months ago.