Justin Bieber told Marilyn Manson 'I made you relevant again,' says shock rocker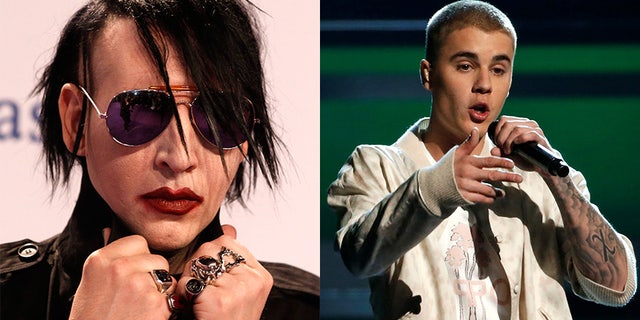 NEWYou can now listen to Fox News articles!
Marilyn Manson is still fuming over Justin Bieber using his image to sell T-shirts without his consent.
Back in 2016, the "Despacito" singer began wearing a T-shirt featuring the shock rocker's face with the phrase "Bigger Than Satan… Bieber" embroidered on the back. The garment, designed by Jerry Lorenzo, was being sold for $195 at Barneys. The same shirt without the Bieber reference is currently available for $19 at Hot Topic.
At the time, Lorenzo claimed the T-shirt was created with the 48-year-old's permission. However, Manson told Consequence of Sound Wednesday he never signed off on the idea and wasn't thrilled to see the shirt on the 23-year-old when they met for the first time soon after.
"He was [already] wearing the shirt that had his name on my shirt, and he said to me, 'I made you relevant again,'" claimed Manson. "Bad mistake to say to me."
"He was a real piece of s--t in the way he had the arrogance to say that," added Manson. "He was a real touchy-feely guy, too, like, 'yo yo bro!' and touches you when he's talking. I'm like, you need to stand down... Alright? So stand down, son."
The self-proclaimed antichrist superstar then told Bieber he would be at his sound check the next day at Staples Center. It was then Bieber reportedly confessed the T-shirt "was his idea."
"He believed that I'd show up, because he was that stupid," said Manson.
Manson also claimed he "took all the proceeds from those shirts" from Bieber.
"They didn't even fight, they were just like, 'Yeah, we already know, we did wrong, so here's the money,'" he recounted.
But these days, the ex-husband of burlesque star Dita Von Teese is looking to move on from the feud. He's gearing up to release his new album, "Heaven Upside Down," on October 6.