Justin Bieber confirms engagement to Hailey Baldwin: 'You are the love of my life'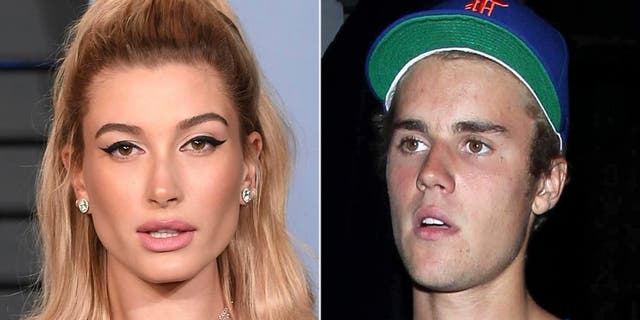 It's official! Justin Bieber and Hailey Baldwin are engaged.
One day after news broke that the "Love Yourself" singer popped the question, both Bieber, 24, and Baldwin, 21, took to social media to confirm their engagement on Monday.
"Was gonna wait a while to say anything but word travels fast, listen plain and simple Hailey I am soooo in love with everything about you!" Bieber captioned two black-and-white photos of himself with Baldwin, who was sitting on her fiancé's lap, showing off a simple diamond band on her engagement finger.
Continued Bieber: "So committed to spending my life getting to know every single part of you loving you patiently and kindLY. I promise to lead our family with honor and integrity letting Jesus through his Holy Spirit guide us in everything we do and every decision we make."
"My heart is COMPLETELY and FULLY YOURS and I will ALWAYS put you first!" he added. "You are the love of my life Hailey Baldwin and I wouldn't want to spend it with anybody else. You make me so much better and we compliment eachother so well!!"
The star went on to say that he couldn't "wait for the best season of life yet."
"It's funny because now with you everything seems to make sense! The thing I am most excited for is that my little brother and sister get to see another healthy stable marriage and look for the same!!!" Bieber said of his two younger half-siblings Jazmyn, 9, and Jaxon, 8.
Bieber also revealed the significance behind their engagement date, July 7.
"Gods timing really is literally perfect, we got engaged on the seventh day of the seventh month, the number seven is the number of spiritual perfection," he shared. "It's true GOOGLE IT! Isn't that nuts? By the way I didn't plan that, anyways My goodness does feel good to have our future secured!"
"WERE GONNA BE BETTER AT 70 BABY HERE WE GO! 'He who finds a wife finds a good thing and obtains FAVOR from the Lord!' This is the year of favor!!!!"
Moments later, Baldwin also shared the news on Twitter, writing: "Not sure what I did in life to deserve such happiness but I am so utterly grateful to God for giving me such an incredible person to share my life with! No words could ever express my gratitude."
According to TMZ, the star popped the question at a resort in the Bahamas.
The couple, who started dating one month ago, were reportedly salsa dancing at a restaurant when witnesses say Bieber's security asked everyone to put their phones away so as not to record the special moment. He reportedly proposed right then and there earning himself a big "yes" from Baldwin.
Stephen Baldwin, Hailey's dad, previously celebrated the news on social media Sunday.
"Sweet smile on my face! me&wife (Kennya) Always pray 4 Gods will !! He is moving in hearts of JB&HB," Stephen wrote in a since-deleted tweet, according to People. "Let's all pray for His will to be done Love you 2 so much !!!#Godstiming #bestisyettocome"
Bieber's father, Jeremy, also took to Instagram on Sunday to share a photo of his son at sunset with a vague caption that seemed to hint at the news.
"Proud is an understatement! Excited for the next chapter," he wrote.
Bieber's mother, Pattie, chimed in on Twitter as well with an equally cryptic message. "Love Love Love Love Love Love Love," she wrote.
As People notes, Baldwin and Bieber rekindled their romance recently after splitting in 2016. Baldwin told The Times U.K. that the breakup caused a brief period of time in which they stopped talking.
In that time, Bieber was believed to have gotten back together with ex Selena Gomez, though nothing official was announced. Meanwhile, Baldwin was romantically linked with singer Shawn Mendes, whom she joined at the 2018 Met Gala in May.