Julianne Moore has message for Sarah Palin; presidential politics dominates Emmy night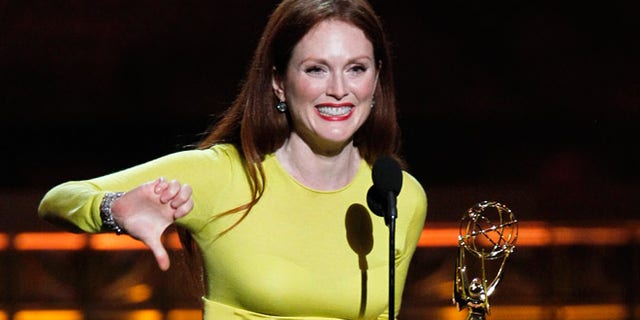 The 64th Primetime Emmy Awards on Sunday night brought out droves of Hollywood's small screen stars, but the telecast ended up focusing as much on presidential politics as it did on their competing TV shows.
Host Jimmy Kimmel peppered the show with a handful of somewhat predictable political jokes.
"Are any of you voting for Mitt Romney? Oh good, only 40 Republicans, and the rest godless liberal homosexuals... Being a Republican in Hollywood is like being a Chick-fil-A sandwich on the snack table at 'Glee," he said, throwing in a jab at GOP supporter Kelsey Grammer, and comparing the PBS series on English aristocrats "Downton Abbey" to what life was like for Mitt Romney growing up.
A slew of winners and presenters, including Julia Louis-Dreyfus, Stephen Colbert and Julianne Moore, who won Outstanding Actress for her portrayal of Sarah Palin in the HBO movie "Game Change," also used their moment in the limelight to for personal political commentary.
"I feel so validated since Sarah Palin gave me a big thumbs down," Moore told the audience, before adding backstage that the film "isn't as much about Palin as the political process and in an election year, this was an examination of how we pick our leaders."
"Game Change" won four Emmys in total, including best miniseries or movie.
"Especially during the primaries it felt like reality television to me," "Game Change" director Jay Roach lamented after accepting his award. "Is this the best we can do, is this how we want our country to run, is this how we find the next Thomas Jefferson, the next Abraham Lincoln? I don't think so."
While accepting the Outstanding Movie statue on behalf of the film, of which he was credited as producer, Tom Hanks adopted an apparent tongue-in-cheek tone as he thanked "our Founding Fathers for the process they came up with that has provided not only us and HBO and all the comedy series here a plethora of material, seems to just go on and on."
In addition to "Game Change," the other big winner of the night was another politically-themed show, the national security Showtime thriller "Homeland." And backstage, it seemed political questions and opinions almost took precedence over all the typical talk about what designer one is wearing and how they feel deep down about just being nominated.
Louis-Dreyfus talked of how the current political climate influenced her "Veep" award-winning role as the United States VP, "Modern Family" creator Steve Levitan noted his hope for "all political candidates to support marriage equality," Claire Danes spoke of President Obama's affection for her show "Homeland," and "Breaking Bad" lead actor winner Damian Lewis detailed his views on the "polarization" of the political landscape and the impact of 9/11.
The politically-charged telecast -- which aired on ABC -- wasn't embraced by all those outside the Tinseltown bubble.
"If I wanted to hear vapid people talking about politics, I would read half my friends' Facebook walls," tweeted one. Another wrote that the Kimmel's comments were "unnecessary." One commented that the political chatter during an awards show was "just nonsense," and another noted that "Hollywood is delusional" in response to the proclamation by Kevin Costner, who won for lead actor in a TV movie/miniseries for his role History's "Hatfields and McCoys" that "everyone talks about politics, but it's so freaking hard to get films made about politics."
(An odd comment as several of this year's Emmys nominees from "Game Change" to "Homeland" to "Veep" to his own were based largely on political themes, sparking one viewer to tweet: "It is hard to make movies about politics? Then why are there 40,000,000 of them?")
Politics aside, the Emmy ceremony was widely panned by reviewers and industry watchers. TheWrap.com called it "hideous" and Kimmel's hosting performance "bad" in parts, and the Chicago Tribune referred to the show as being "far from a ringing endorsement of Hollywood's ability to produce anything but an eye-rolling awards show."
Others were marginally kinder to Kimmel and the telecast, with the likes of Entertainment Weekly calling the comedian's performance "mostly very funny," and IndieWire noting that while he was "perfectly smooth," he was not a "perfect fit."
Plus controversial Golden Globes host Ricky Gervais had the crowd roaring with laughter as he took to the stage as a guest presenter and photobombed fellow comedian Louis C.K., prompting many to question if Kimmel just might be out of the job next year.