Julianne Hough Doubts Bristol Palin Will Win 'Dancing With the Stars'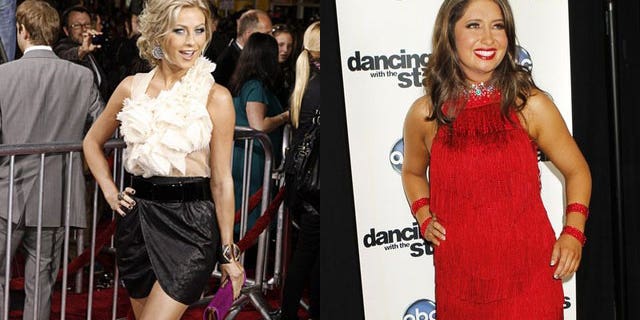 NEWYou can now listen to Fox News articles!
Julianne Hough has waltzed her way to winning the "Dancing With the Stars" crown with partners Apolo Ohno and Hélio Castroneves, but the former pro on the hit ABC show doesn't think Bristol Palin will take the title this season.
"She's gotten this far, right? That's what the show is… people voting and keeping your favorite couple in," Hough told Tarts while promoting her new film "Burlesque," adding that her winner prediction was somewhat biased. "My brother (dancer Derek Hough) and Jennifer (Grey) are great. I think it will be between Jennifer and Brandy."
Although the 22-year-old has moved well beyond the popular variety show to highly-anticipated movies like "Burlesque" and a lead in the "Footloose" remake, she hasn't ruled out a return to the show – well, for a guest appearance only.
"I would love to go back and dance with my brother again or something fun like that," Hough continued. "I probably would not (do another full season) but you never know."
On the note of keeping all opportunities open, the Utah native isn't opposed to shedding her clothes for a film role in the future – but she almost walked away from the PG 13-rated "Burlesque" as she initially thought it involved showing a little too much flesh.
"I probably had the same reaction as you guys – 'I don't have to take my clothes off right? It is just dancing not stripping right?' I really wasn't that familiar with burlesque, I was definitely like, 'I'm not going to do that, especially not right now,'" Hough continued. "I think there is really big difference between burlesque and stripping. There is that line of sensual… and then there's sexual. Nudity isn't something I will do right now, but things change and you never know."
But when Hough isn't focusing on her budding film career, releasing records, or making workout DVDs (her second one is slated for release at the end of November) she's making time for her man, media mogul Ryan Seacrest.
"When it's good, you want to make that effort and make that a priority," she gushed. "I love everything (about him.) He is wonderful."
And what of his thoughts on her appearance onscreen alongside the likes of Cher, Christina Aguilera and Kristen Bell?
"There's a lot of half naked women in there," she added with a smile. "I'm sure he loved it."