Jon Voight Gushes About Daughter Angelina Jolie: 'That's My Girl!'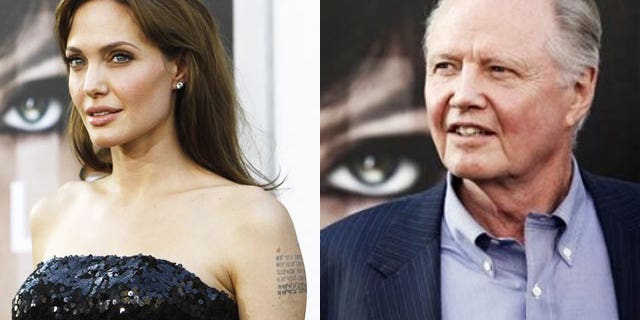 LOS ANGELES – After many years estranged, it appears as though the father/daughter relationship between Jon Voight and Angelina Jolie is becoming stronger by the day. The veteran Hollywood actor/director was one of the first to arrive on the red carpet for the Hollywood premiere of Jolie's new action blockbuster "Salt" on Monday night – and was the picture of a doting dad.
"Angelina is like a circus performer in some way, she enjoys (doing her own stunts.) She's athletic and she enjoys expressing her athleticism," Voight told us with a big smile. "Sometimes I worry that it's not wise (doing her own stunts) but she has her stunt girls that are very good, so I'm hoping that she doesn't compete with them."
At one point Voight turned around to examine the electrifying movie poster, which featured only Jolie's name and a close-up of her steely, yet sexy glare.
"That's my girl," he said proudly.
SLIDESHOW: The Lovely and Talented Angelina Jolie
In addition to her dad, Jolie brought partner Brad Pitt and their children to the star-studded premiere (Pitt skipped the press line, claiming that it was his "night off.") But while Jolie is proud of her work in the action flick, she isn't quite ready to let her young kids watch the violent film.
"I can't show my kids movies where people are trying to kill me. They saw some of the clips and were a little disturbed by it. There was one part where somebody was tying my feet up and they got upset and didn't like it," Jolie explained. "But when they're older I think my kids are going to love this. Mad (Maddox, her 8-year-old son) really wants to see it but he's just not ready yet. He's not old enough yet."
And while the thrill-seeking, Oscar-winning actress was completely comfortable hanging from 11-story buildings and jumping from one moving truck to the next while filming "Salt," which centers around the quest to capture a CIA agent suspected of being a Russian spy, there is one part of life that ignites her inner fear.
"There is nothing I'm afraid to do on camera, I'm only afraid of something happening to people I love," Jolie said simply.
And despite being heralded as one of the sexiest women in the world, there was actually a day on-set in which the male crew members didn't want to be by her side. Why? She was dressed (very convincingly, mind you) as a man.
"It was odd, because then you actually start to really think about 'what is my internal man?' You get really particular about how he does his hair, or what kind of an outfit he would wear, it is bizarre," Jolie said of the experience. "When I dressed up in him and walked on set for the first time, the crew was so uncomfortable. So uncomfortable. The guys didn't want to stand near me, they just kept staring at me (as if to say) 'stay away from me.'"
But while she may be adept at playing a man, rumor has it that Jolie is in competition with Catherine Zeta-Jones to play feminine Hollywood icon Elizabeth Taylor in an upcoming biopic of the legend's life. Only problem? It was news to Jolie.
"I have never heard that before," she added. "I don't think anybody that can be better than Elizabeth Taylor, at being Elizabeth Taylor."