Jon Hamm says sex scenes with Kristen Wiig were awkward but enjoyable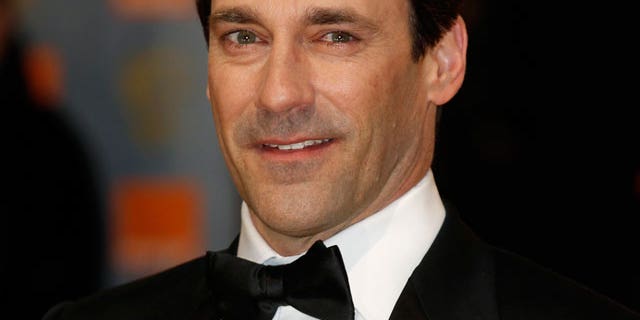 Between his roles in "Mad Men" and "Bridesmaids," actor Jon Hamm has had his fair share of sex scenes, but he tells Playboy magazine this month that he still has to try to have fun despite the "awkwardness."
"It's like running in the rain. There's a certain point where you go, 'F--- it, I'm already wet.' I'm not going to get any less wet so I might as well enjoy how this feels," he said of his scenes with "Bridesmaids" star Wiig.
"I mean sure, there's an awkwardness about being in a weird flesh-colored thong, bouncing on top of an actress. And I am not a small human being. I weigh at least 200 pounds and I'm six-foot-two. And Wiig is a twig; she's a skinny little thing. I told her, 'Just punch me in the side if I'm hurting you.' It's weird and uncomfortable at first but then all the awkwardness melts away and you think, 'All right, we're doing this, so let's have fun with it.'"
Hamm also admitted that he had to audition six times for the role of Don Draper on "Mad Men" and struggled for many years in Hollywood before landing the lead on the AMC series.
"I called Paul Rudd, who I knew from college, and said, 'I'm going to ask this only once, because I don't want to be that guy. I need a favor. Can you give me one person to call who will take my call?' He gave me a number, and that meeting turned into another meeting, which turned into another meeting. The dominoes started falling and I eventually got an agent, and then I didn't work for three years and my agent fired me."
In those early days, Hamm did everything from waiting tables, which he calls a "part of my identity," to working as a dresser on a soft-core porn set.
"I did set dressing on some soft-core porn films. That was hands down the worst. I was working on the crew from seven to seven, and it was horribly depressing," he said.
The new season of "Mad Men" premieres March 25 on AMC.
Click here to read the full interview with Playboy magazine