John Wayne's son carrying on father's legacy through cancer research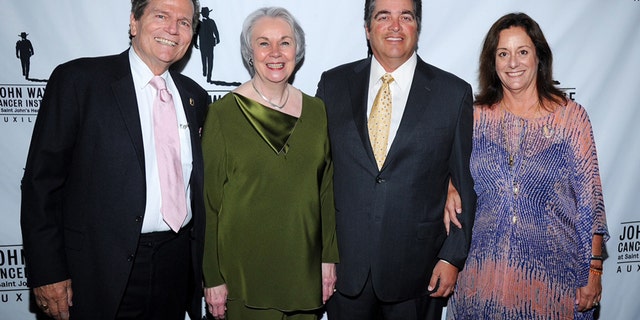 John Wayne remains one of the most iconic figures in American cinematic history – from a Civil War veteran in "The Searchers" to a U.S. marshal "True Grit" – his gun slinging, cowboy hat wearing and outspokenly conservative political persona was box office gold for several decades.
While it has been over thirty-five years since he died of stomach cancer, John Wayne's legacy continues to have a powerful impact in the quest to eradicate the disease.
"When we started this organization, we had no idea what would happen. But all these years on, and John Wayne is still very popular...and he is able to make a difference," Wayne's son Patrick told FOX411 at the annual John Wayne Cancer Institute Auxiliary (JWCIA) in Beverly Hills on Thursday. "His name still means a lot around the world."
Even in his dying days, Patrick says his father remained strong and no one ever really thought his illness would claim his life.
"The problem was that so many people saw him as a two-dimensional person, but he was as multi-layered and as human as they come," Patrick explained. "He was a very vulnerable person, but he wasn't a person who was shriveling up and dying. We all thought he was going to beat this. That's what you just thought of John Wayne. But in reality, he was just a human being like the rest of us."
Patrick said that even though he was father was always an "incredibly courageous man," it was in those final six weeks that his bravery reached a peak.
"He never complained, all he thought about was if he could help someone else," he said. "We all thought he had it under control and was going to win this battle."
Patrick and Wayne's granddaughter, Anita Swift – Auxiliary President – joined hundreds of Los Angeles locals for a luncheon to honor oncologist Marilou Terpenning, MD and Dan Hay, president and CEO of Premiere Girls Fastpitch and Surf City Tourneys Inc.
Since 1981, Wayne's family have been dedicated to pioneering cancer research in memory of their iconic father, supporting research to change the way cancer is detected, diagnosed and treated around the world.
Over the past year, JWCIA has raised almost $800,000 – more than $18 million since its inception – for research in its commitment to spearhead new advances and train the next generation of leaders in the fight against one of our country's biggest killers.
"If you asked him about all this when he was alive, he'd probably be really shy about it," Patrick added. "But when he was dying, doctors came to him and asked him if he wanted to do a treatment experiment and he said 'Hell yeah' and 'If I survive, I will help you with that.' In his heart, he always wanted to help. I don't want anything bad to happen in my dad's name, so we just monitor what is going on and let the doctor's do their thing."
Follow @holliesmckay on Twitter.