John Stamos: Fourth of July 'really makes you think' about what it means 'to be an American right now'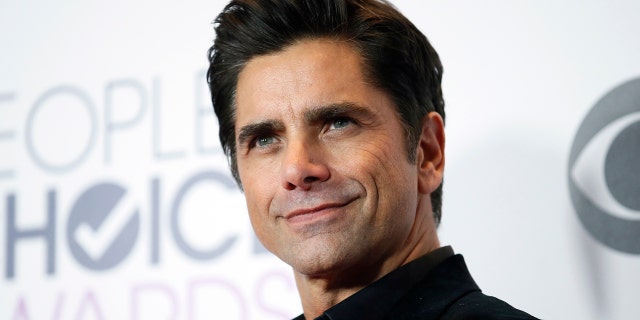 Have mercy!
John Stamos is back as the host for PBS' special, "A Capitol Fourth," after he was moved by last year's Fourth of July show.
"It really makes you think, 'Wait a minute, what does it mean to be an American right now? And, 'Where are we with all of this?'" the "Fuller House" star told Fox News about the upcoming holiday.
"To get all of these people together there, and all of the people at home watching with their families, to just put all of the stuff aside and go, 'Wait a minute, we're living in the greatest country, and we love it, and we're not that far away from each other, and things are crazy, but they're going to be OK,'" he explained. "I think that's what this show does for everyone."
And as each year passes, Stamos, 54, believes the holiday has "more meaning."
"Last year, I was saying I want to talk about immigration, [which] was a hot topic, and I got to talk about my grandfather coming over from Greece, and going through Ellis Island," recalled Stamos.
"Each year it's like, 'Let's figure it out,'" said the actor-producer. "And to me, even as crazy as things have gotten over the last year, I don't think we're that different from one another."
"We're sort of being pushed farther and farther, and further, away," he continued. "But I think this kind of celebration, which we really need right now is bringing us closer and closer together. Going like, 'Hey, you're like me, we have some differences, but we can learn about them.'"
Stamos, who will be performing this year along with the Beach Boys, Jimmy Buffet, among others, said that he doesn't "want to make it too simple" however "sometimes music will do that."
There is one big difference for the star this Independence Day though. It reminds Stamos, who welcomed his first child, son Billy in April, about fatherhood.
"It does make you think about what it means to be a father," shared the new dad. "And what this country is going to be like when he's old enough to realize what's happening. And you really want to dig in now, and take things serious because it is a serious time."
But while his baby boy is still little, Stamos is looking forward to having him and wife Caitlin along for the show.
"We're loading up a couple of vans and a trucks—these kids take so much," explained Stamos. "I need like a baby roadie because there's so many things."
The actor added with a laugh: "I don't know how anybody is alive because it's a lot."
As for if baby Billy will make an appearance Wednesday night?
"I'd like to get up there and hold him up like the 'Lion King,'" teased Stamos. "'See son.'"
Jokes aside, the proud dad is looking forward to talking about his son "and what it means to be a father" at the event.
"They asked: 'Can we show a picture of Billy?... And I said, 'We'll put him in the audience, and we can get a shot of him,'" shared Stamos adding one caveat: "He'll probably be asleep."