John Malkovich helps save man's life in role as real-life hero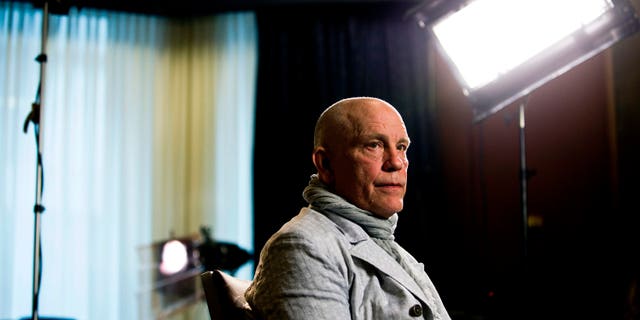 This could be the best role he's ever played: Real-life hero.
John Malkovich, known for his portrayals of villains in such films as "Con Air" and "In the Line of Fire," helped save an Ohio autoworker's life in a Good Samaritan moment in Toronto.
"John Malkovich saved my life," Jim Walpole, 77, of Defiance told The Toronto Sun after a near-lethal incident that proved as harrowing as any big-screen thriller.
Walpole reportedly tripped outside a Toronto hotel while on a sightseeing trip through the Canadian city with wife Marilyn and a host of other American tourists.
"I went out for a walk and just stumbled," the retired General Motors autoworker told The Sun. "Bang! I fell right into the scaffolding along the (King Edward) hotel wall."
Blood began quickly spouting from a gash in Walpole's neck as Marilyn reportedly screamed hysterically for assistance. "(It) was coming out so fast," she later told The Sun.
It was then that Malkovich, fortuitously on location, ditched his cigarette and rushed to Walpole's aid. "He started to press on my neck," Walpole reportedly said. "He said he was trying to stop the bleeding."
"The guy really seemed to know what he was doing," added Ben Quinn, a passer-by who reportedly assisted in the Malkovich-provided triage. "We didn't know who he was. I just asked if I could hold the man's head and he said, 'Yes'."
Then -- and just as the paramedics arrived -- Walpole reportedly looked up at his silver-screen savior and said, "What's your name?"
"My name," Walpole told The Sun the mysterious man, in turn, replied, "is John and you are going to be all right.' "
Walpole was then rushed to St. Michael's Hospital, and reportedly will be all right. "I owe them all my life," Walpole said of his fellow tour group members. "But the first guy really seemed to know what to do."
That would be Malkovich, who apparently, declined to comment on the affair, but did, however, receive what The Sun said was an extra round of applause Saturday on stage at Toronto's Elgin Theatre, where he is portraying Casanova in "The Giacomo Variations."

Click for the story in the Toronto Sun.