Jimmy Kimmel to file federal complaint against Trump family store for abroad-made items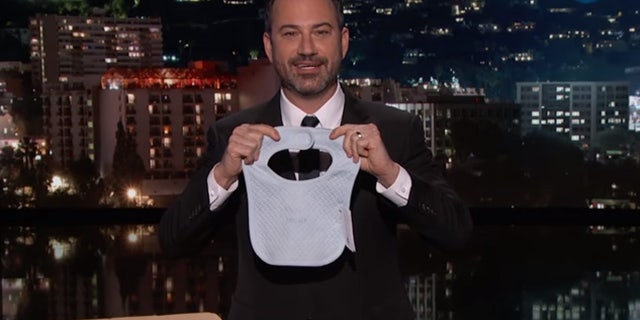 Talk show host Jimmy Kimmel said he is ready to launch a federal complaint against President Trump's family store after discovering that most of the merchandise was made overseas.
On Wednesday, the host of "Jimmy Kimmel Live!" questioned the president's trademark motto of American made products by purchasing several items from the Trump store, which is run by the president's sons.
Joking that the Trump family takes the "American thing very seriously," Kimmel expected to find that the merchandise from the American-bred store would feature all-American made products. But to his surprise, the host found that most of the items he purchased from the Trump store were made abroad.
Kimmel showed off a collection of items that he purchased from the Trump store website including a Trump golf hat, a porcelain coffee mug, a duffle bag, a blanket and a baby's feeding bib, which were all made in the countries of China, Thailand and Peru.
The host also identified "an official Trump pet banana" which did not feature any tags saying where it was made. Kimmel then stated it was illegal and told the audience that he researched untagged items and learned that items imported to the States are required to display a country of origin according to U.S. Customs and Border Protection.
"I'll just file an official complaint and let them sort it out," he said about the Trump store's unidentified items stating that "companies can face up to $500,000 in fines per violation" if products that were made overseas do not feature tags that say so.
"This could be very expensive," Kimmel joked, then said, "Not to mention embarrassing. Are they even capable of shame? I mean Trump's whole platform is about American companies, his company isn't even supporting America!"
Of all the items Kimmel purchased from the Trump store, only one item came close to boasting an American-made tag. The Trump golf club cover was entirely made in China but decorated in the States.