Jimmy Kimmel brings son on show, slams GOP for tax cuts while leaving children's healthcare unfunded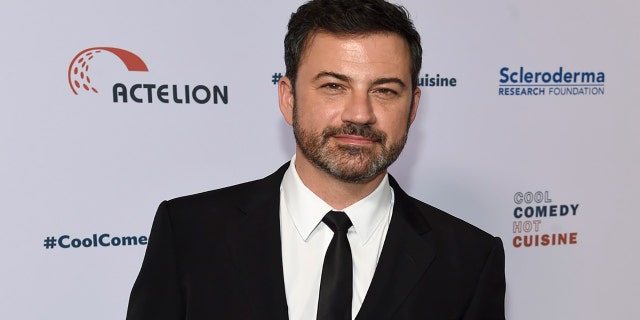 Jimmy Kimmel held his baby son as he returned to his late-night son from a week off for the boy's heart surgery.
Kimmel was crying from the first moment of his monologue Monday night as he pleaded with Congress to restore and improve children's health coverage, a cause he has championed since his son Billy was born with a heart defect in April.
His son needed one surgery after his birth and had a follow-up operation last week.
Kimmel kept up his advocacy on healthcare, attacking GOP for turning C.H.I.P – Children's Health Insurance Program – into a "bargaining chip" in the tax reform negotiations and failed to fund the program.
"Parents with children together with cancer and diabetes and heart problems are about to get a letter saying their coverage could be cut off next month," the late-night show host warned, acknowledging that the program used to have a bipartisan support in the past.
"This happened because Congress, about 72 days ago, failed to approve funding for CHIP," Kimmel continued. "This is literally a life and death program for American kids, it always had bipartisan support, but this year they let the money for it expire while they work on getting tax cuts for their millionaire and billionaire donors."
He added that it was "disgusting" that Congress is putting tax cuts for the richest ahead of the children's health.
The Associated Press contributed to this report.