Jessica Simpson: Full-Figured and Finally Happy?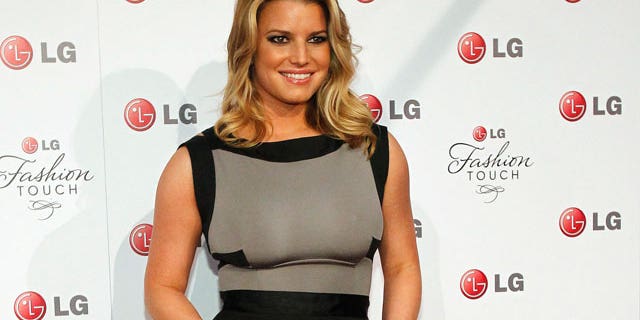 When it comes to Jessica Simpson, "weight" is one of her top associated Google search terms.
The singer's fluctuating figure has long been fodder for tabloid headlines. She caused a sensation in 2005 when she slimmed down to squeeze into those itty-bitty Daisy Duke's for "Dukes of Hazzard." But in 2009, she was chastised for her rounder physique while performing at a chili cook-off in Florida.
But in spite of all the (literal) ups and downs, it finally seems as though the 30-year-old has settled into her fuller frame, and embraced her female curves as she prepares to tie-the-knot with ex NFL player, Eric Johnson.
And on a professional level, Simpson is finally soaring.
While her music may not be chart-topping the way it was several years ago, the star is still in the studio and still releasing albums, and reportedly in talks to exercise her mentoring muscles as a judge on Simon Cowell's highly-anticipated "X Factor."
But Simpson's biggest success stems from her self-titled fashion empire, which is expected to hit $1 billion in sales next year.
So do Simpson's love and career success go hand in hand with her relaxed fit jeans?
Click here for more on Jessica Simpson
"For most people, falling in love brings positive feelings and moods. The positive cascade of hormones and sense of well-being that accompanies falling in love can take the attention away from food and concern about one's body and appearance," body image expert Sarah Maria told FOX411's Pop Tarts. "Being with someone who loves and appreciates you no matter how you look can go very far in helping you develop a positive relationship with your own body."
Furthermore, the inclination to overindulge often diminishes when one finds that special somebody.
"The emptiness disappears, and so does our impulse to eat comfort foods. When we fall in love, we find ourselves more self-accepting. We feel a sense of satisfaction through the loving eyes of another that allows us to treat ourselves, and our bodies, with more love and respect," explained Los Angeles-based psychologist, Dr. James E. Walton. "This releases us from the pains of yo-yo dieting which is so disrespectful and damaging to the body. When we are truly in love, we may actually perceive ourselves as being loveable and worthy of love."
However, the euphoria of falling in love can have an unhealthy side too when it comes to being comfortable in your own skin.
Celebrity dietitian Ashley Koff, R.D., who was the featured dietician for the CW's "Shedding for the Wedding," warns that celebrities, just like average Americans, need to take action not to get too comfortable and let those "love handles" get out-of-hand.
"Being in a relationship can be the best for making a healthy lifestyle or can also derail us. If one starts bringing in junk food or says 'let's stay in bed' versus going out to exercise that can work against you both. As a member of a couple, you bear responsibility for yourself but also for what you enable your partner," Koff said. "Healthy eating requires ongoing attention and effort daily. Now is the time to lay the foundation for your new life, together."
And luckily for Simpson, her man has that covered and is known for his vegan lifestyle and nutritious diet. But even before Johnson entered Jessica's picture, she wasn't buying into her body criticism and letting it weigh her down, proving that success and self-satisfaction is first and foremost, an inside job,
"You really have to know who you are before you can truly fall in love and give your all, and I don't think a man can define you. You have to own that," Simpson told us last year. "So if you're ever with anyone who says you should change something about yourself then they should never fall in love with you in the first place."