Jessica Chastain films take top two spots at the box office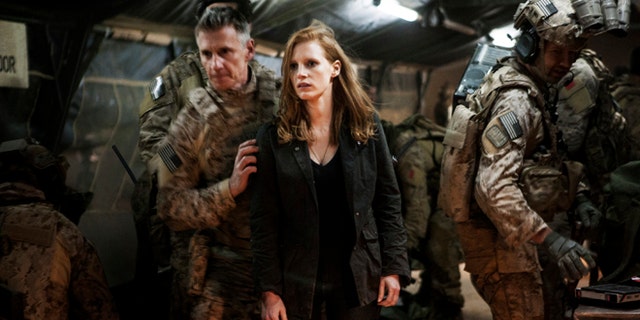 NEW YORK – Jessica Chastain easily outmuscled Arnold Schwarzenegger and Mark Wahlberg over the weekend, topping the box office with both her supernatural horror film "Mama" and the Oscar-nominated Osama bin Laden hunt thriller "Zero Dark Thirty."
"Mama" opened well above expectations with a box-office topping $28.1 million for Universal Pictures, according to studio estimates Sunday. Chastain also held the second spot with "Zero Dark Thirty," for which she's nominated by the Academy Awards for best actress. In its second week of wide release, "Zero Dark Thirty" took in $17.6 million.
The films' strong performances had the remarkable effect of making Chastain an unlikely box-office queen out of a chameleon-like actress that even fans of "Mama" might have trouble picking out of a lineup. Chastain, whose credits range from Terrence Malick's "The Tree of Life" to "The Help" (for which she was also Oscar nominated), even accomplished the rare feat by besting a couple of more traditional box-office stalwarts.
Schwarzenegger's post-governorship comeback got off to a terrible start. His action flick "The Last Stand" opened with just $6.3 million for Lionsgate, one of the worst debuts for the brawny 65-year-old star. The film came in 10th.
Though Schwarzenegger co-starred in "The Expendables 2," which opened with $28.6 million in August, "The Last Stand" is his first proper starring vehicle since exiting the California governor's seat in January 2011.
The Mark Wahlberg, Russell Crowe-led New York crime film "Broken City" didn't fare much better. The Fox release premiered with $9.1 million.
Instead, audiences flocked to the PG-13-rated "Mama," which bore the imprimatur of the well-respected fantasy-spinner Guillermo Del Toro, a producer.
"Never underestimate the drawing power of a PG-13 horror film," said Paul Dergarabedian, box-office analyst for Hollywood.com.
Nikki Rocco, head of distribution for Universal Pictures, acknowledged the apparently limitless appetite for such a film, if done right: "That's why we did it," she said.
"It's a fun film without a lot of extraordinary violence," said Rocco, who added she would have been "thrilled" with a debut in the mid- to high-teens. "Young people like scary stuff."
With Martin Luther King Jr. Day on Monday, Hollywood will get a virtual four-day weekend at the box office. Universal is predicting "Mama" to finish with $33.2 million by the end of Monday.
Though horror films generally are a hit with male audiences, "Mama" appealed strongly to females, who made up 61 percent of its moviegoers. That was key on a weekend filled with male-driven movies, including "Broken City," ''The Last Stand," Warner Bros.' "Gangster Squad" and the Weinstein Co.'s "Django Unchained."
"It's an incredibly competitive marketplace for testosterone-driven films," said Dergarabedian.
The Weinstein Co.'s "Silver Linings Playbook," nominated for eight Academy Awards including best picture, expanded to its largest number of theaters in its 10th week of release. Playing in 2,523 theaters, a jump of 1,713 theaters, the David O. Russell film took in $11.4 million on the weekend — the same in which its star Jennifer Lawrence hosted "Saturday Night Live" — for a cumulative of $55.3 million.
Also nominated for best picture, Quentin Tarantino's "Django Unchained," in its fourth week became the director's biggest box-office hit. It surpassed his previous film, "Inglourious Basterds," by adding $8.2 million for a domestic total of $138.4 million.
___
Estimated ticket sales for Friday through Sunday at U.S. and Canadian theaters, according to Hollywood.com. Where available, latest international numbers are also included. Final domestic figures will be released Monday.
1. "Mama," $28.1 million.
2. "Zero Dark Thirty," $17.6 million.
3. "Silver Linings Playbook," $11.4 million.
4. "Gangster Squad," $9.1 million.
5. "Broken City," $9 million.
6. "A Haunted House," $8.3 million.
7. "Django Unchained," $8.2 million.
8. "Les Miserables," $7.8 million.
9. "The Hobbit: An Unexpected Journey," $6.4 million.
10. "The Last Stand," $6.3 million.