Jenna Fischer makes donation in name of protesters who interrupted her speech at DePauw University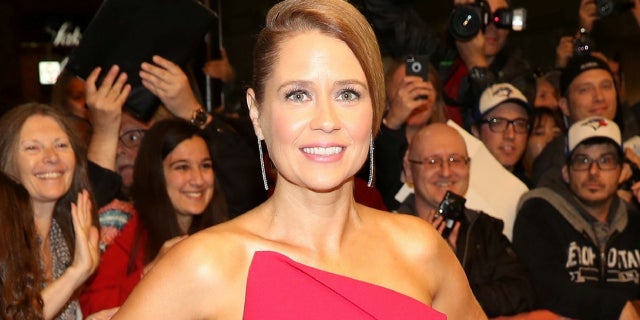 NEWYou can now listen to Fox News articles!
Jenna Fischer said she would be donating money to the NAACP, Trevor Project and the Anti-Defamation League in the name of the protesters who interrupted her speech Tuesday night at DePauw University.
Fischer, 44, was at the university Indiana to promote her book "The Actor's Life: A Survival Guide" when protesters said blew a whistle and had students scatter across the room. The students stood up staying, "I am not safe" and some held a banner, which read: "#DePauwKKK." The demonstration came after a string of racial incidents on campus. One of the incidents occurred before Fischer was slated to speak.
Fischer, an Indiana native, was interrupted several times during her speech and expressed empathy to the protesters.
JENNA FISCHER EVENT AT DEPAUW UNIVERSITY INTERRUPTED BY PROTESTERS
"In my personal opinion, oftentimes justice requires disruption and interruption of our scheduled lives," she told the audience, according to the Indy Star. "I don't know what to say except that I'm so sorry."
"The Office" star tweeted Wednesday that she would be donating her speaking fee to the organizations in the name of the protesters.
"In light of last night's events, using the full amount I was paid by the university, I will be making equal donations to the NAACP, the Anti-Defamation League and the Trevor Project in the name of the students at DePauw University," Fischer tweeted. "My hope is for all people to be respected, accepted and loved for their individuality and uniqueness. And, above all, to be safe."
CLAIRE DANES SAYS 'HOMELAND' WILL END AFTER SEASON 8
"The student protestors spoke about their experiences and about the hate they have been encountering. I could feel the pain, sadness, and fear coming from these students," she continued. "No student should feel at risk, or have to suffer the kinds of bigotry and hate these students have encountered. These students need to be heard and they need change."
Fox News' Ryan Gaydos contributed to this reported.