James Corden: Stars call me to be on 'Carpool Karaoke'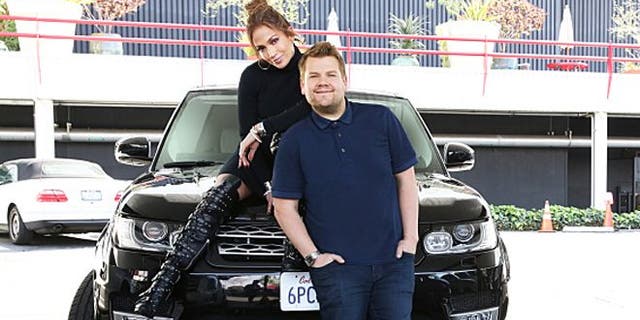 Pasadena, Calif. – James Corden's "Carpool Karaoke" segment is so popular that A-listers are lining up to hop in his car, and Corden is expanding the viral video hit to keep up with demand.
Execs revealed Television Critics Association's Winter Press Tour Monday that Corden is taking "Carpool Karaoke" to Apple Music for a 16-episode series that will stream exclusively on the app. The show will branch out to include not only singers but other celebrities who aren't known for their vocal talent too.
The new "Carpool" segments will feature famous faces such as Will Smith, Chelsea Handler and Billy Eichner as hosts in place of Corden.
A trailer for the show premiered at the Television Critics Association Winter Press panel.
Ben Winston, a creator of the segment along with Corden, said celebs are reaching out to them to be the next star belting it out alongside the "Late Late Show" host.
"So many people get in touch with us, big name movie stars, saying they'd love to do 'Carpool Karaoke,'" he said. "Here, it's about taking those people who aren't musicians necessarily."
Corden echoed Winston's sentiments when speaking with FOX411.
"There is no tough sells anymore, it's just timing," he told us. "I think they used to be apprehensive. I think genuinely a lot of people used to turn up going 'What am I doing? And what is this?' And now I think it's a thing where people call us, and it's become a part of record company strategy for launching an album, singer or artist. In many ways that has become a lot easier."
This new show will be slightly different from what Corden does in his daily late night show, execs revealed at the CBS press day of the Television Critics Association's Winter Press Tour. Because this will be Apple Music's first show, Corden will continue the segment on the "Late Late Show."
The comedian told FOX411 stars who aren't too uptight make for the best guests.
"You want someone who is very comfortable and relaxed being themselves; Someone who will with joyous abandonment throw themselves into ridiculousness of signing at the top of their voice in a car, that's what you want. You want someone who just goes for it."
He told reporters the segment's success is bigger than any one person.
"This just became a wonderful platform to see these people in an intimate environment," he said. "I don't even feel like it's mine, really, it's just something I've been part of and now other people can share it."