Jack Osbourne challenges Rolling Stone to donate profits from Dzhokhar Tsarnaev cover to bombing victims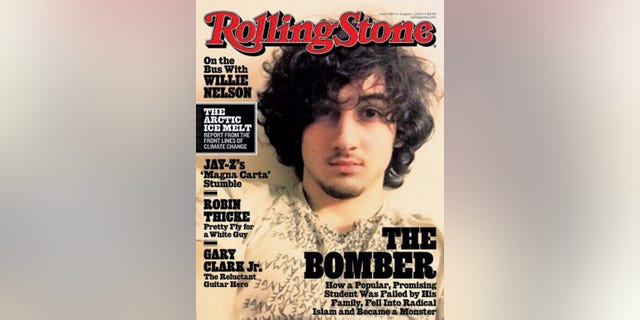 LOS ANGELES – Rolling Stone magazine ignited a national outcry last week when it unveiled the cover of its August issue, alleged Boston bomber Dzhokhar Tsarnaev resembling a rock star in the mold of Jim Morrison and the young Bob Dylan.
And while national retail chains like Walgreens and CVS were quick to remove the issue from their shelves, and scores of celebrities took to twitter to vent their anger over the apparent romanticizing of an alleged terrorist, Jack Osbourne – son of Ozzy and Sharon Osbourne – has taken things one step further.
Osbourne last week launched a petition on Change.org urging Rolling Stone magazine to donate all profits made from that edition's sale -- both retail and advertising revenue -- to the victims, surviving family members, and first responders adversely affected by the Boston Marathon bombings.
"Glamorizing a suspected terrorist on the cover of Rolling Stone Magazine is not controversial, it's just wrong. Innocent people have been killed or injured by the alleged actions of this man. There is no justification for awarding him a cover spot traditionally reserved for entertainment icons," he wrote in the petition letter. "It is this kind of action that encourages other sick individuals to act out in hopes of earning notoriety or martyrdom for their cause."
Osbourne also pointed out that the petition is not critical of the cover story, just the cover.
"We support the first amendment and the freedom of the press, but we do not support glorifying suspected terrorists in this manner," Osbourne insisted. "The innocent victims, their families, the first responders, and the people of Boston are the ones who deserve to be honored and remembered."
The petition quickly generated more than 25,000 signatures of support.
"The victims should be the ones on the cover and their beautiful lives honored. I'm so very disappointed in RS and will personally not pick it up anytime soon," wrote one, another noted that "it is not cool to keep profits by glorifying killers," while another weighed in: "No one should profit from an execution, murder and maiming."
A rep for Rolling Stone did not respond to a request for comment.