Insiders: Steven Tyler likely pressured by Aerosmith to finally choose between band and 'American Idol'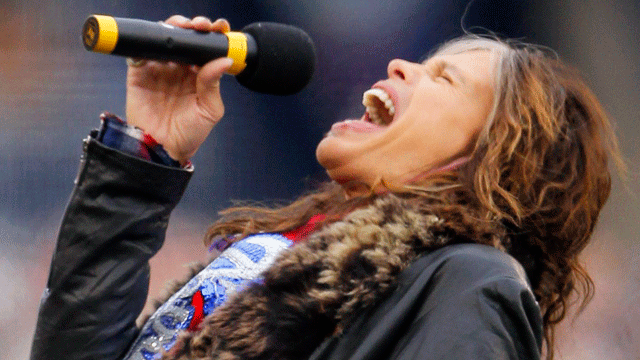 LOS ANGELES – After headlines all week saying Jennifer Lopez and Randy Jackson were all but gone from "American Idol," it was Steven Tyler who dropped the bomb that he was the one leaving "Idol" first.
But sources tell FOX411's Pop Tarts column that pressure from his Aerosmith bandmates to get off the show and back on tour may have been behind Tyler's abrupt departure as the show gears up of Season 12.
We're told that the promotional tour for their new album, "Music from Another Dimension," could have clashed big time with Tyler's "Idol" Tyler commitments. Initially, the album was slated for release in August, before being pushed back to November, which is when "Idol" tryouts are in full swing. That date change could have put Tyler in the position of having to choose one or the other.
"'Idol' is a huge time commitment. I think with them moving the [Aerosmith album] to November, you can say someone really believes in it, as releasing it in the fourth quarter is superstar release time," explained Billboard writer Phil Gallo. "Promotionally it is better as well. So much of it is about having your options open."
"The situation smacks of the band forcing him to make a choice between 'Idol' or Aerosmith," leading PR specialist, Glenn Selig, said. "He chose Aerosmith."
[pullquote]
The aforementioned rumors swirling around Lopez and Jackson may have also played a role.
"If they keep changing the judging panel, he probably doesn't want to be the credible face sticking around," said another industry insider. "Steven wants to regain some shred of independent credibility. I absolutely think there was pressure on him from bandmates not to go back on the show."
Indeed having to jockey with "Idol" for Tyler's time might have been too much for the rest of Aerosmith. When Tyler first signed onto the show in 2009, he said his band was "jealous."
"They heard it through the press and not me," he said. "I've been on tour with these guys for forty years and they have been judging me every day. Sometimes it hurt - a lot of times... It's a real journey with those guys."
At the time, guitarist Joe Perry went on the attack and threatened to replace Tyler and vowed that he didn't want Aerosmith's name associated with the talent competition.
"(Idol) is a reality show designed to get people to watch that station and sell advertising," he told the Calgary Herald. "It's one step above Ninja Turtles."
Tyler released a statement Thursday announcing his departure from FOX's megahit singing competition.
"After some long...hard...thoughts…I've decided it's time for me to let go of my mistress 'American Idol' before she boils my rabbit," Tyler said. "I strayed from my first love, AEROSMITH, and I'm back – but instead of begging on my hands and knees, I've got two fists in the air and I'm kicking the door open with my band. The next few years are going to be dedicated to kicking some serious ass – the ultimate in auditory takeover…"
The band recently debuted the album's first single from the new album, "Legendary Child," (ironically, on the "Idol" finale this year – Perry included) to mixed reviews.
"It sounds like the band was too busy blasting away to bother with much melody," wrote Rolling Stone, RS1 while Loudwire praised the song for returning to the band's "gritty rock roots."
A rep for Tyler said they had no further information than what was revealed in Thursday's statement.
FOX's President of Alternative Entertainment Mike Darnell praised Tyler for his two years on "Idol."
"It's been a tremendous honor to have Steven – one of the most prolific artists in the world – on "American Idol" for the past two seasons," he said. "He's been a terrific judge, a true friend and great mentor to everyone involved with the show, and we know he'll continue to be a huge inspiration to"Idol" hopefuls for years to come. We are very sad that Steven has chosen to focus more on his music, but we always knew when we hired a rock 'n' roll legend, he would go back to the music. We all wish him all the best and would love to have him back on the show anytime."
Danielle Jones-Wesley contributed to this report.