Indie band sues Demi Lovato for copyright infringement, claims she ripped off their song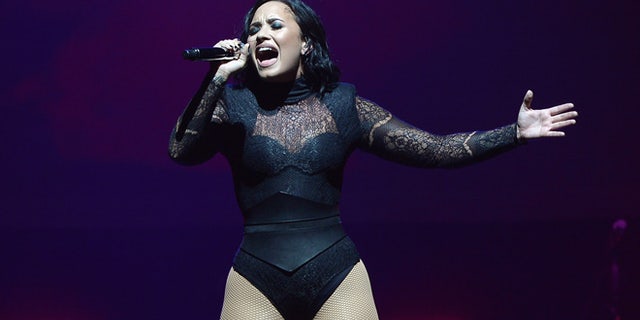 Months after an indie band accused Demi Lovato of "sampling" one of their songs without permission, the musical band filed a bombshell lawsuit against the singer.
Indie band Sleigh Bells claims in its suit that the former Disney star's 2015 hit "Stars" sounds very familiar to their 2010 track called "Infinity Guitars." The lawsuit names Lovato, UMG Recordings and producers Carl Falk and Rami Yacoub, who previously denied any wrongdoing.
"A comparison of the two songs reveals that, at the very least, the combination of the hand claps and bass drum, structured as 3 quarter beats and a rest, with the bass drum providing a counter-rhythm to the hand claps, is at least substantially similar in both works," the complaint states, according to the Hollywood Reporter. "This infringing material repeats throughout the defendants' song."
Sleigh Bells, made up of members Alexis Krauss and Derek Miller, allege that "signal decay and other sonic signatures" reveals "virtually identical content" and "transcend the realm of coincidence."
The band first accused Lovato in November after "Stars" was released as a bonus track to her fifth studio album "Confident."
"Demi Lovato flattered you guys sampled Infinity Guitars & Riot Rhythm for 'Stars' but we were not contacted. Gotta clear those," they tweeted.
Lovato's rep denied using the Sleigh Bells track for the song.
"We did not use any samples in Demi Lovato's song 'Stars.' Demi was also not involved with the production," producers Falk and Yacoub told Fox News Latino through Lovato's reps. "She only wrote top line."
Here are the tracks to compare.
This is not the first time Lovato has been accused of ripping off another artist in her new album "Confident," thought it is the first time she has been taken to court.
Upon the release of "Cool for the Summer," fans started to claim that in sounded a lot like Katy Perry's "I Kissed a Girl" and Jessie J's "Domino."
The former Disney star took to Twitter to deny the allegations.
"Sounds nothing like it and with all the advances we've made in the LGBT community..." she wrote. "I think more than one female artist can kiss a girl and like it."