In "Go For It!" Aimee Garcia Dares Latinos to Follow Their Dreams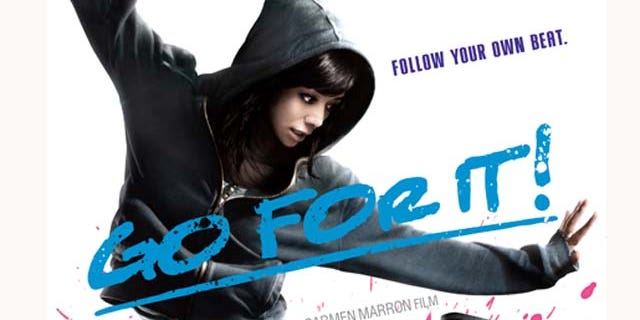 With upbeat music and intricate choreography, "Go For It!" tells the story of a second-generation Latina teenager who follows her dreams of becoming a hip-hop dancer, despite the obstacles she faces because of her family's socioeconomic issues.
The movie is set to hit theaters nationwide May 13.
Throughout the film, Carmen, played by Aimee García (George López show), faces situations such as knowing about her best friend's abusive relationship and being torn between what her parents want for her future and her passion for dance.
"It's nice to have our stories told on the big screen," said García, who like Carmen is a dancer and the daughter to two immigrants. "Growing up no one looked like me. It's nice to be represented."
The movie, which has a full Latino cast, is written and directed by first-time director Carmen Marron, allowed García to play a versatile character both professionally and personally.
"I got to be a full person," García points out about her character Carmen. "I wasn't just the stereotypical 'Latina'. In one scene I get to play a strong woman, in another I'm flirty. I'm feisty in others and smart as well.
"I always told me myself that if I ever did my own Flash Dance," she added, "that I would do my own dancing."
García is no rookie to the rigorous dancing routines and physical demands of the art. She began her dancing career when she was three years old.
By the time she was seven, she was performing professionally. The actress was not surprised when she saw herself competing against many trained dancers for the part, and was told the movie would be shot marathon style.
"We did 11 scenes in one day," she recalls. "We only had 18 days to shoot the entire film."
García believes that the positive message of the movie will have an enormous impact in the Latino community. But she also believes the movie is for all audiences.
"It's not just a Latino movie. It's very authentic, funny and the dancers are amazing," García said. "We represent Latinos very accurately, the good and the bad."
"Go For It!" also touches on domestic violence in the Hispanic community.
"Because it's happening on the big screen, it will trigger something in the audience to stop domestic abuse," said García. "They will be uncomfortable."
This weekend is pivotal to García, who is looking toward Hollywood and making more films like this one.
"I think it's really important to support good films with strong Latino characters because if films like "Go For It" are successful, Hollywood will make more films like it," García said.
"If a studio film with a great script and good story, with an all-Latino cast, does well at the box office, studios will make more films like that," she added. "The Latino community can vote with their movie ticket. Just look at how Tyler Perry's success at the box office has led to multiple films about the African American experience."
You can reach Alexandra.Gratereaux at: Alexandra.Gratereaux@foxnewslatino.com
or via Twitter: @GalexLatino
Follow us on twitter.com/foxnewslatino
Like us at facebook.com/foxnewslatino