'Idol' recap: Phillip Phillips outperforms Jessica Sanchez on finals night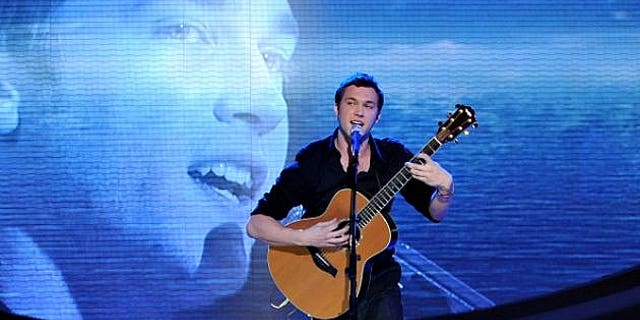 Phillip Phillips, the former pawn shop worker from Leesburg, Georgia, may have clinched the title of "American Idol" on Tuesday by singing the understated and heartfelt "Home" for his choice of "potential winning song" during the first night of the season finale.
Phillips earned a standing ovation from the 7,000-person crowd at the Nokia Theater at LA Live in downtown Los Angeles–along with the judges and mentor Jimmy Iovine–for singing the sentimental song which was written by veteran "Idol" songwriter Drew Pearson.
"When they did the homecoming episode, Phillips' [segment] was especially moving," Pearson told the Hollywood Reporter. "Not just when his dad got all teary, but you could see that it's a small town and everybody knows everybody. It ended up being perfect for him."
The "American Idol" judges agreed about Phillips' performance, which was accompanied by a drumline.
"Dude, I love the song, I love you, I love the production, I love the marching band–everything about that was perfect," raved judge Randy Jackson. "Brilliant, genius."
"It was so different," agreed judge Jennifer Lopez. "I couldn't think of any other singer or band that you sounded like right in that moment...There's nothing on the radio that sounds like that. Congratulations."
Judge Steven Tyler even compared Phillips to Paul Simon and "other ungod-like creatures."
"By virtue of your vulnerability and style, you have made the world your 'Home,' my friend," said Tyler. "You were perfect tonight, and I think you were the man."
Meanwhile, Jessica Sanchez, the 16-year-old from Chula Vista, California, did not fare quite as well with her selection for "potential winning song," a bland pop ballad entitled "Change Nothing."
"Let me just be straight up here," said a blunt Jackson. "I did not love the song...You have that Beyonce kind of swag, you got urban in you, so to do just a straight pop song without having your flavor in it is often a little weird for me."
"If I was thinking about what your first single was going to be, I don't think I would do that because you have so much soul," opined Lopez. "I think we missed that."
"I just didn't feel like that song was the proper song for you to sing with the voice and places you've taken the world before this," lamented Tyler. "Yeah, baby."
Sanchez earned higher marks for singing "American Idol" creator Simon Fuller's choice for her, Whitney Houston's "I Have Nothing."
"For me, this is a tough one, because it's like a battle of the opposites," said Lopez after Sanchez and Phillips performed Fuller's song choices. "How do you compare? With Jessica you have this amazing vocal prowess, this power, this control, this grit, this beauty. With [Phillips], you have our modern-day crooner–he has soulfulness, originality, artistry. So at the end of the day, America has a tough job."
Seacrest agreed with Lopez, noting that this season has been "one of the tightest finale races in our history."
Up next: The winner of season 11 of "American Idol" is selected.