'Hunger Games' tops box office for third week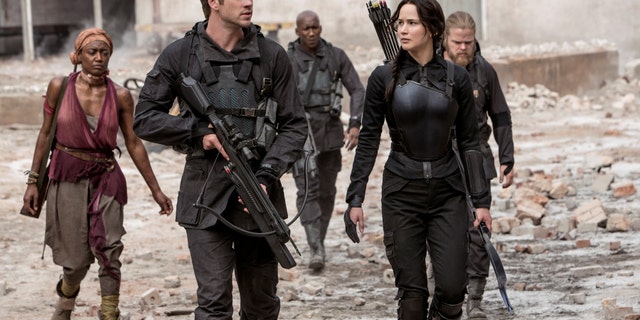 "The Hunger Games: Mockingjay – Part 1″ held on to its box office crown for a third straight week picking up $21.6 million, but it wasn't much of a triumph for the hit sequel, reports Variety.
Ticket sales for the weekend were anemic, falling 19% from the previous year as studios decided to hold their fire for the Christmas holiday instead of introducing any major new releases. Twentieth Century Fox toyed with counter-programming by releasing "The Pyramid" in 589 theaters, but the found-footage horror film only eked out $1.3 million.
After three weeks, "Mockingjay – Part 1″ has earned $257.7 million domestically.
The weekend after Thanksgiving is traditionally a glacial one for the movie business and this one was no exception. Without much in the way of competition, DreamWorks Animation's "Penguins of Madagascar" secured second place on the chart, picking up $11.1 million and driving its total to $49.6 million. Given its high $135 million production cost, the animated spin-off of the "Madagascar" franchise is still something of a disappointment.
In third place, "Horrible Bosses 2″ dropped a slender 44% to earn $8.6 million, bringing its total to $36.1 million after two weeks. Disney's "Big Hero 6″ has emerged as one of the fall's biggest hit, nabbing $8.2 million in its fourth week. It has made $177.6 million stateside since debuting at the beginning of November.
Christopher Nolan's "Interstellar" also has shown impressive legs, picking up $7.6 million and pushing its domestic total to $158.2 million. The space adventure has performed better internationally than it has in the U.S., earning more than 70% of its revenue overseas.
Fox Searchlight's "Wild," which is receiving strong buzz for Reese Witherspoon, earned $630,000 from 21 theaters, for a per-screen average of $30,000.
Among other Oscar contenders, "Whiplash" earned $351,474 on 175 screens, and has so far made $4.4 million, while "Foxcatcher" snared $574,727 on 75 screens, brining its take to $2.8 million.

In its second week of release, "The Imitation Game" made $401,570, bringing its total to almost $1 million. It will expand to between 30 to 35 theaters.
"Theory of Everything," another prime candidate for Best Picture, brought in $2.7 million, pushing its total to $13.6 million.