Hillary Clinton gets asked 'painfully scripted' questions on Colbert: report
Former Secretary of State Hillary Clinton appeared on "The Late Show With Stephen Colbert" on Friday and was lobbed 'painfully scripted questions' and gave 'painfully scripted answers' during a segment called 'Just One Question," Mediaite reported.
Colbert, the host, said his staffers get excited when someone as knowledgeable as Clinton is in the building, so he gave them the OK to ask the former presidential hopeful a single question. The segment was edited and the workers were asked in various locations around the building. Clinton was inside a studio.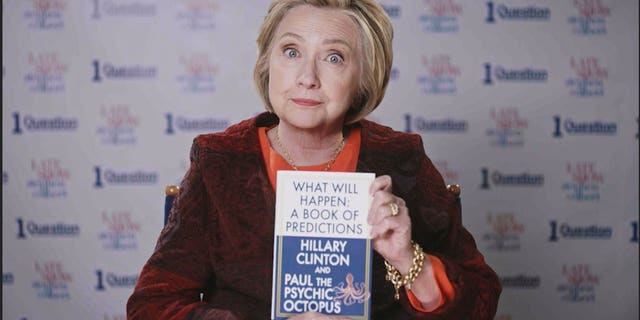 One assistant asked Clinton what her proudest moment was while she served as secretary of state. Clinton responded that it was working with U.S. diplomats.
A writer asked if she preferred 'The Rock' or Vin Diesel -- giving her an opportunity to showcase her knowledge about the characters in "Fast and Furious."
"What a tough question," she says. "The "Fast and Furious" movies prove that both are masters of high-octane action."
The audience laughs.
"And while 'The Rock' is an indispensable part of the later films, Vin Diesel is really the heart at the center of the Toretto family, and in the end, everyone is better off to look past what divides them and work together. You know, I like to say, stronger together."
The writer appeared to be happy with her answer and said, "You're a smart lady."
The audience laughed.
"Stronger Together" was a book written by Clinton and her former running mate Sen. Tim Kaine, D-Va.
Clinton was asked if she'd make a prediction on the 2020 election and said she joked, saying she'd save that insight for her upcoming book, "What Will Happen: A Book of Predictions: Hillary Clinton and Paul the Psychic Octopus."
Her appearance on the friendly show may be another sign that she intends on staying relevant prior to 2020.
A longtime Clinton adviser is hinting that she may have one more presidential run brewing -- a statement greeted with glee from the White House.
"It's somewhere between highly unlikely and zero," Philippe Reines told Politico about the possibility that Clinton runs again in 2020, "but it's not zero."