High-Fashion Photographers Declare Britney Spears to Be 'Hottest Woman' on Earth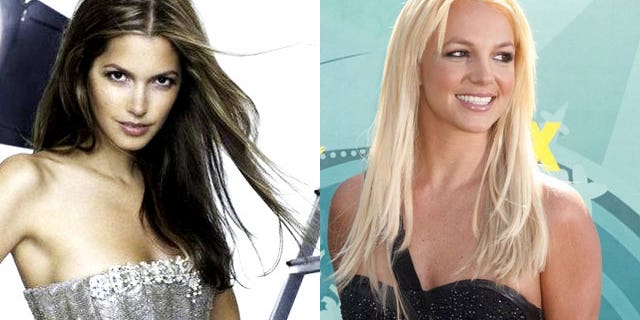 LOS ANGELES – When it comes to the world of high-fashion and A-list celebrities, photography duo Markus Klinko and Indrani have snapped almost every fabulous face over the span of their careers.
But among all the stars they've worked with, from Jennifer Lopez to Naomi Campbell, the star they think is the hottest woman alive, just might surprise you.
Yup – it is Britney Spears, y'all.
"Britney would be the hottest woman I have ever photographed, she was super sexy. At the time, she was just unbelievable – so natural and so sweet," Klinko gushed to Pop Tarts, referring to a large-scale, garden-themed shoot they did with the pop princess at the beginning of 2004. "Britney was just so personable and she had a lot of the ideas for the images. It was one of the loveliest experiences."
While this was years before Brit married and divorced Kevin Federline, shaved her head and lost custody of her kids – it seems the seeds to that eventual breakdown were already starting to sprout.
"Britney was very vulnerable. She had a big entourage but they didn't really pay attention to her – she felt like she was on her own," added Indrani. "She worked day and night singing and dancing for a video she was working on, and she was working up to the minute that she left for our shoot. That was 11 at night and we worked until 3 in the morning. I was amazed, I just couldn't understand how someone could keep up that pace."
SLIDESHOW: Britney Spears Is One Hot Bikini Mama
And perhaps Spears was looking for a way out too – just a few days later, the then 22-year-old hit up Sin City and got hitched to her childhood pal, Jason Alexander, in what turned out to be a marriage that lasted just 55 hours.
But this certainly isn't the only troubled Tinseltowner Klinko and Indrani have photographed. The professional partners (and formerly 'personal' partners) have captured Lindsay Lohan several times over the years, and most recently in a new campaign for her leggings line. Viewers can even see all the drama go down in an upcoming episode of the new Bravo docu-series "Double Exposure," premiering on Tuesday at 10 p.m. EDT, which takes much more than just a simple snapshot of the trials and tribulations they deal with in their celebrity-driven business.
"Lindsay is extremely talented and very charismatic and I think she is very, very intelligent. Although some of her choices have maybe questionable in the past, I think that's part of the process of becoming a great artist is going through a lot of challenges. You can't become great without experiencing challenges," Indrani said.
SLIDESHOW: 7 Reasons Why Lindsay Lohan Is the New Britney Spears
Just last month the 36-year-old photographer told the New York Post that she was in a romantic relationship with 23-year-old Lohan, a claim the actress later denied. And although Indrani played coy when it came to the current status of their "association," she apparently still plays a prominent part in the tormented starlet's life.
"I feel like we have a nice understanding of each other and I really like to be a positive influence in her life because when we work together it is very exciting and she's really focused on her work and art," Indrani added. "She really spends a lot of time studying the great artists of the past and the great films of the past. She's very focused. I know the press is very interested in other aspects of her life but in my experience she's really surprised me with her intelligence and knowledge of these things and just how sweet she can be."
In addition to Lohan, the show also features shoots with the likes of Naomi Campbell, Brooklyn Decker, Lady Gaga and Kim Kardashian. And the photographers were actually "surprised" with what Kardashian really looked like, sans all that typically thick makeup, mascara and hair spray.
SLIDESHOW: The Lovely and Talented Kim Kardashian
"Kim is another one that surprised us. Up to the point when we started shooting, no one had seen her without the heavy black makeup," Indrani added. "It's really important that we show her for who she really is. She is extremely beautiful without all the makeup and the hairstyling. She is gorgeous when she walks in and I think it was a surprise to her because people get used to the way they are presented. I think it was a challenge for Kim and she really enjoyed the results."