Heath Ledger's Posthumous Globes Win Boosts Oscar Buzz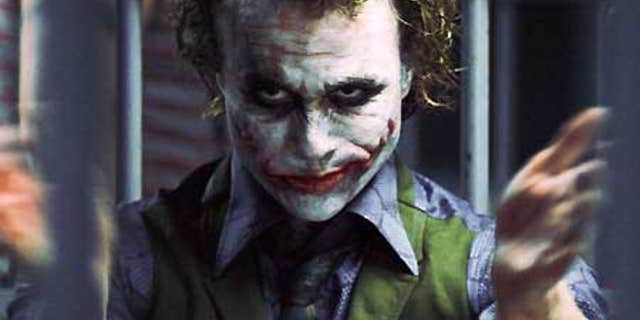 BEVERLY HILLS, Calif. – Nearly one year after his death, the late Heath Ledger is one trophy closer to an Oscar nomination — and possible win — for his anarchic take on the Joker in the Batman blockbuster "The Dark Knight."
Ledger, who died last January of an accidental drug overdose, was honored posthumously Sunday as best supporting actor at the 66th annual Golden Globe Awards.
"It's always beautiful to think of him and remember him," co-star Aaron Eckhart said on the red carpet before the show.
The crowd rose to its feet as Ledger was named, the first standing ovation of the night inside the glitzy Beverly Hilton ballroom. "Dark Knight" director Christopher Nolan, who accepted the trophy on behalf of Ledger, said the award came with an "awful mixture of sadness but incredible pride" and said that Ledger's untimely death represented "a hole ripped in the history of cinema."
"He will be eternally missed, but he will never be forgotten," Nolan said.
Ledger has long been considered a likely supporting actor Oscar nominee, but his Golden Globes victory increases the likelihood of an Oscar win for Ledger, who's also been lauded for his "Dark Knight" role from several film critics associations, including the Los Angeles Film Critics Association and the Boston Society of Film Critics. He also won Critics' Choice and People's Choice awards for the role, and is nominated for a Screen Actors Guild award.
Balloting for the Oscars closes Monday.
"I'm really happy to see that 'The Dark Knight' is making a last-minute run at recognition," director and Cecil B. Demille Award winner Steven Spielberg said backstage. "I was really happy to see Heath win tonight. I'm looking forward to some more momentum. I think that balances everything out."
It's unusual for a popcorn-friendly flick like "Dark Knight" — and a villainous role such as Batman's arch nemesis — to be the source of such speculated Oscar acclaim. Academy of Motion Picture Arts and Sciences voters tend to honor highbrow films that don't rake in $1 billion in worldwide theatrical grosses.
In 2006, Ledger was nominated for a best actor in a drama Oscar for his performance as lovesick cowboy Ennis in "Brokeback Mountain" but lost to Philip Seymour Hoffman for his role in "Capote."
It would be a somber moment if Ledger is nominated for a supporting actor Oscar: The nominations are scheduled to be announced Jan. 22, the one-year anniversary of Ledger's death.