Gym, Tan, Pokey? 'Jersey Shore' star's grand jury 'Situation'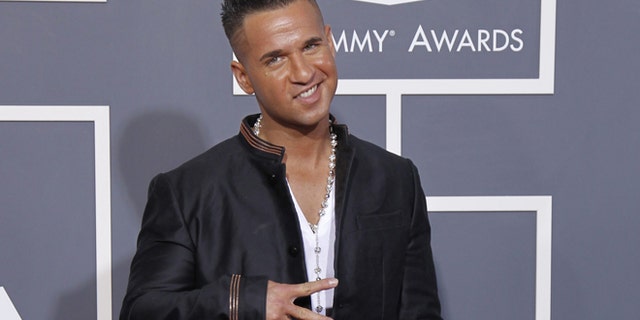 NEWYou can now listen to Fox News articles!
Mike "The Situation" Sorrentino, who made millions starring on the reality show "Jersey Shore," has a new role in a federal grand jury investigation into his financial records and tax records.
A U.S. Attorney's subpoena called for information to be presented to a grand jury in Newark, NJ, on Nov. 27, the day before Thanksgiving, which involved records and financial documents relating to seven companies formed by Sorrentino and his brother, Marc, who serves as his manager. The companies were formed as Sorrentino and other cast members of the show, which aired from 2009-2012, sought to capitalize on their sudden fame with endorsements, appearances and books.
The subpoena was among those served on a number of bars, liquor stores, and other businesses that hosted promotional events with Sorrentino for Devotion vodka. Many of the locations for events held in 2010 and 2011 were in and around the Jersey Shore area, though Sorrentino also attended promotional events in Pennsylvania and California.

Click here to read the subpoena
One subpoena, issued by the U.S. Attorney's Office in Newark, sought "records pertaining to Michael Sorrentino, Marc Sorrentino, MPS Entertainment, Situation Nation, Situation Productions, Situation Capital, GTL Management, Naughty Limited, TM Capital Investments and any other businesses or third parties that facilitated the appearance or negotiated on behalf of the above named individuals and entities to include, but not limited to receipts for payments issued, copies of cancelled checks, contacts, correspondence, ledger printouts detailing payments made and any other records retained and associated with the aforementioned."
The probe involves agents from the Internal Revenue Service's Criminal Enforcement division. TMZ first reported late last month that Sorrentino was the target of an unspecified criminal probe that had to do with his finances.

In response to the TMZ report, Sorrentino's publicist, Cindy Guagenti, said in a statement to news outlets: "Michael Sorrentino is fully aware that the U.S. Attorney's office has issued subpoenas for records relating to several businesses he owns." She did not immediately provide comment for this article.
U.S. Attorney's Office spokesman Matt Reilly told FoxNews.com, "The position of our office is that we neither confirm nor deny the existence of any investigation."
Sorrentino and Devotion Spirits have already sparred over finances in a recently settled lawsuit and countersuit between the colorful and oft-shirtless reality star and vodka company.
"The Situation" is no stranger to legal issues.

In August 2011, Abercrombie & Fitch made headlines when they tried to pay Sorrentino to not wear their clothes. In November 2012, Sorrentino sued the clothing company for trademark violations after they sold shirts with "GTL" – an acronym for "gym, tan, laundry," a popular "Shore" house motto. He lost that case. He has also sued a nightclub and a nutritional supplement company.
In March 2012, Sorrentino completed a two-week rehab stint at a facility in Utah for prescription drug addiction. In a number of interviews, Sorrentino said he became addicted after running out of prescription pain killers he was taking to recover from an injury he suffered in 2010 while participating on another reality show, "Dancing with the Stars."
In October 2012, Sorrentino and MPS Entertainment sued Devotion Spirits for $5 million for breach of contract. The vodka company countersued, charging Sorrentino hid his drug problem from the liquor company. Court documents reference a 2011 incident at a New Jersey liquor store where Sorrentino was suspected of cocaine use. The vodka brand also claimed he lied when asked about drug or legal troubles during a pre-hire interview with company executives.
In court documents, they also allege Sorrentino's brother, Marc, "attempted to extract extra perquisites, payments and tax benefits from the sponsor of the "Leather Meets Lace," a charity event for wounded American soldiers to take place at the Playboy Mansion."
According to a June 11, 2013 "order of dismissal upon settlement," the parties agreed to a settlement of undisclosed terms. The countersuit against Marc was separately dismissed before the settlement. These lawsuits - involving the Sorrentino brothers, their company MPS Entertainment and Devotion Spirits - were adjudicated out of the Northern District of California, where Devotion Spirits is located.
The current criminal investigation is based in New Jersey, where Sorrentino and his brother live, and where many of their businesses are located and/or registered.

While the federal grand jury was hearing the case against Sorrentino, the reality star was busy tweeting about Thanksgiving preparations.

On Nov. 27 he tweeted, "Good Morning! I'm helping my family get ready for the holiday today. Who is excited for Thanksgiving tomorrow?"