'Good Day LA' anchor Julie Chang diagnosed with brain tumor after surfing accident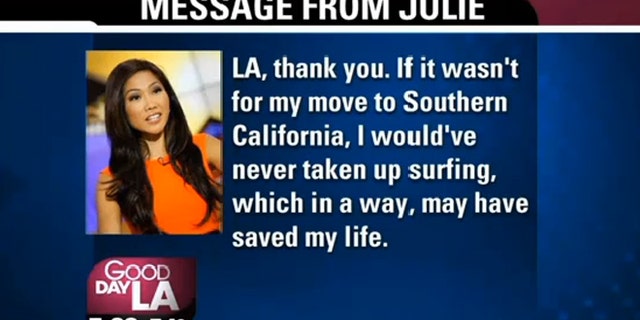 Los Angeles' KTTV "Good Day LA" anchor Julie Chang was diagnosed with a brain tumor after a she had medical tests done following a surfing accident, her coworkers revealed.
A news anchor read a statement from Chang, explaining that she got a black eye after she was hit in the face by her surfboard, and a CT scan revealed "a tumor in the core" of her brain.
"I will recover with the warmth you have given me since my first day here on Fox 11," Chang stated. "I have bottled up all the love from my 'Good Day LA' family to take with me into the operating room, so please know that I will be OK."
Chang promised to keep fans updated on her condition via Twitter and she stated that she would be undergoing surgery to remove the tumor in the next few days.
The anchors of "Good Day LA" revealed they Chang's medical issues began about two months ago, but she kept all her issues under wraps. The anchors encouraged viewers to send Chang messages on social media.