Gisele Bundchen denies she and Tom Brady support Trump, despite candidate's claim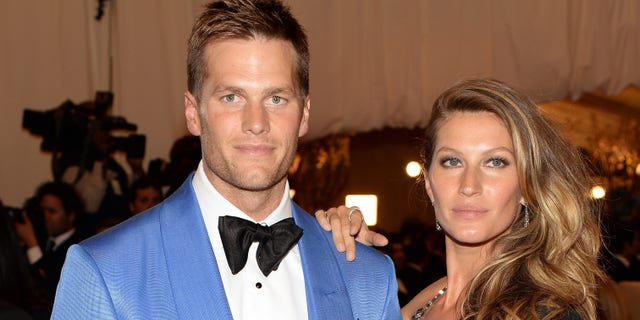 There seems to be some dissent within the Tom Brady-Gisele Bundchen household having to do with Republican presidential candidate Donald Trump.
As has been noted in the media in the last few weeks, Brady and Trump are friendly, and on Monday night, the GOP nominee claimed at a rally in Manchester, New Hampshire, that he had the vote of the New England Patriots quarterback.
Shortly afterward, one fan asked the Brazilian supermodel in a comment to one of her Instagram posts, "Gisele, I heard you and Tom were backing Trump! Is that true?"
"No!" she replied.
But there was no mistaking Trump's comment. "Tom Brady, great guy, great guy. Great guy, great friend of mine — great, great champion. Unbelievable winner," he said. "He called today and he said, 'Donald, I support you, you're my friend, and I voted for you.'"
He went on, "I said, 'So, Tom. You voted for me, you support me, am I allowed to say it tonight at this massive crowd in New Hampshire?' He said, 'If you want to say it, you can say it.' Okay? Tom — that's what a champ is all about."
Earlier that morning, during his weekly appearance on WEEI-AM's Kirk & Callahan radio talk show, Brady said he had yet to vote. He also said he would reveal which candidate he voted for during his next appearance on the show.
However, a few hours later, town officials in Brookline, Massachusetts, shared a photo from when Brady went to drop off his absentee ballot.
Under state law, officials can confirm whether a person voted in an election but cannot disclose who they voted for.
The Boston Globe reported that Bundchen is not registered to vote in Brookline.
At the rally, Trump also claimed he received a "the most beautiful" letter from Bill Belichick, the Patriots head coach, congratulating him, wishing him luck Tuesday and commending him for the way he handled "an unbelievable negative and slanted media."
"By the way, is there a better reference than Tom Brady and Bill Belichick?" he asked the crowd. "I don't think so."
Following Trump's speech on Monday, people turned Bundchen and Brady's social media accounts into a political battleground.
"Did your husband seriously vote for Trump!? If so you can kiss nature goodbye," one person wrote in the comment second in a picture of the supermodel and her kids riding horses on a beach. "He supported a candidate who doesn't believe in climate change!"
Another person wrote: "Cannot believe your husband endorses Trump. I'm [embarrassed] for you."
The Associated Press contributed to this report.
Like us on Facebook
Follow us on Twitter & Instagram