Gisele Bündchen bares all for Vogue Brazil anniversary cover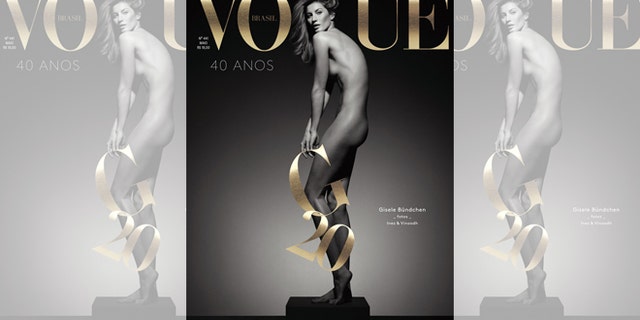 NEWYou can now listen to Fox News articles!
Gisele Bündchen may be out of the catwalk, but she is most definitely not leaving the fashion world.
Less than two weeks from her emotional farewell from the runway, the Brazilian beauty turned up the heat posing naked on the cover of Vogue Brazil for its 40th anniversary issue out in May.
The 34-year-old mother of two stood tall and proud on a podium, showing off the figure that made an international model sensation. She is carrying a letter "G" in gold from the magazine's title.
She shared the cover on Instagram, captioning it: "My 20-year career celebration cover @voguebrasil. Thanks to everyone who is part of this special edition."
A second photo inside the issue shows Bündchen in a sexy pose, fully clothed inside a bathtub.
Bündchen bid farewell to the catwalk during the Sao Paulo Fashion Week on April 15.
For the final bow, a bevy of models emerged in jeans and T-shirts printed with Bündchen's image, and Bündchen herself wove her way through the pack, sporting painted-on jeans and a top depicting her in a yoga pose. Fighting back tears, she flashed her trademark broad smile and a thumbs-up.
Ahead of the show, she told Brazilian newspaper Folha de Sao Paulo that her reason to retire was because her body "asked her to stop."
"Automatically my body tells me if what I do is worth it, and it asked to stop," she said. "I respect my body, it's a privilege to be able to stop."
Bündchen said she is not leaving the fashion business, but instead will focus on her family and other editorial modeling projects.
"I don't see how to continue (modeling on the catwalk) … and stopping will leave room for other projects I have for myself," she added, not elaborating on any other projects.