Gigi Hadid on Hashimoto's disease diagnosis: 'I love my body now'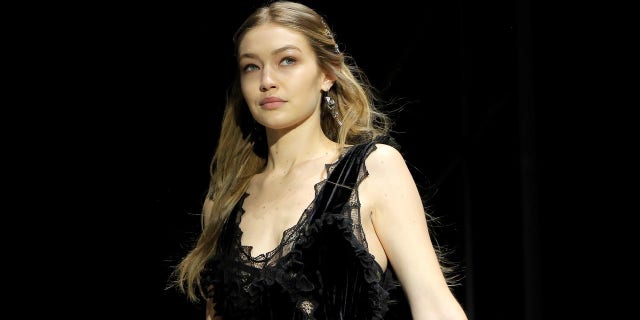 Gigi Hadid spoke on Monday about the changes in her body since she was diagnosed with Hashimoto's disease, a day after slamming critics on Twitter for calling her "too skinny" at New York Fashion Week.
Hadid opened up to E! News after closing the Anna Sui fashion show with her sister Bella Hadid.
"I've loved my body when I was just diagnosed and I loved [it] going through it and I love my body now," the 22-year-old model said backstage at the show. "It's just about everyone accepting their body as it matures and knowing that it's not always going to look the same and you can love yourself in all different sizes."
Hadid added that she's speaking about her battle with the autoimmune disease because "a lot of people can connect with it."
GIGI HADID HITS BACK AT CRITICS CALLING HER 'TOO SKINNY' AT NEW YORK FASHION WEEK
The supermodel revealed in December 2016 she was diagnosed with Hashimoto's disease, which affects the thyroid gland. In a series of tweets on Sunday, Hadid said she would "not further explain" her weight after several people commented about her skinny frame at fashion week.
"For those of you so determined to come up w why my body has changed over the years, you may not know that when I started @ 17 I was not yet diagnosed w/Hashimoto's disease; those of u who called me 'too big for the industry' were seeing inflammation & water retention due to that," Hadid tweeted Sunday night.
Hadid also said she prefers not to use drugs, but underwent a holistic medical trial to help balance her thyroid levels.
She added, "I will not further explain the way my body looks, just as anyone, with a body type that doesnt suit ur 'beauty' expectation, shouldnt have to. Not to judge others, but drugs are not my thing, stop putting me in that box just because u dont understand the way my body has matured."
Hadid concluded by asking social media users to empathize with people before criticizing them. She said the public should use energy to "lift those that you admire."